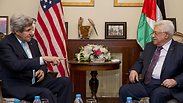 President Abbas and john Kerry
Photo: AP
The Palestinians are not walking away from US-led efforts to reach a peace deal with Israel, a top Palestinian official said Wednesday, a day after their renewed bid for international recognition of a "state of Palestine" threw Washington's already troubled Mideast mission into further disarray.

Israeli, Palestinian and US negotiators are set to meet Wednesday night, officials familiar with the negotiations told The Associated Press.

Related stories:

As part of the terms for returning to negotiations in late July, Abbas had promised to suspend Palestinian membership applications to UN agencies and international conventions. Israel in turn pledged to free 104 long-term Palestinian prisoners in four staggered releases throughout the talks, which were due to last until April 29.

But in a surprise move on Tuesday, Abbas very publicly signed letters of accession to 15 international conventions, saying this was a response to Israel's failure to release the last group of prisoners at the end of March.

Israel has not responded. Kerry canceled plans to return to the region on Wednesday, but also said it's "completely premature" to write off the talks, while American officials hinted that the move was viewed as pressure tactic directed at Israel rather than the US.

There were some indications from Palestinian officials that Abbas' unexpected step largely was intended as a pressure tactic. Keeping on good terms with the US and negotiating the terms of a Palestinian state with Israel remain pillars of Abbas' political strategy.

Yasser Abed Rabbo, the secretary-general of the Palestine Liberation Organization, insisted Wednesday that the Palestinians are not turning away from negotiations.

Yasser Abed Rabbo on peace talks (צילום: רויטרס)

"We hope that Kerry renews his efforts in the coming days," Abed Rabbo told a press conference. "We don't want his mission to fail."

However, he did express pessimism about the current direction talks were heading.

"We can't return to the empty routine, a search for a framework for talks - this empty routine which is negotiating about negotiating," he told reporters.

Continuing the talks beyond the end of this month, he said, "must proceed from and depend on one main point, and this is looking into the issue of borders."

Abed Rabbo also suggested that joining the 15 international conventions would not lead to dramatic changes on the ground.

"This step will affirm the status of Palestine in the international community legally and politically," he said. "It is a good step on our way to get the recognition from the entire world of our status as a state, equal to other states, but under occupation."

In November 2012, the UN General Assembly overwhelmingly recognized a state of Palestine in the West Bank, Gaza and east Jerusalem as a non-member observer state. The vote came despite objections from the US and Israel, which portrayed it as an attempt to bypass negotiations.

Palestinian officials have said that recognition paved the way for the Palestinians joining 63 UN agencies, conventions and institutions, including the International Criminal Court.

Palestinian Foreign Minister Riad Malki on Wednesday handed the letters of accession signed by Abbas to the relevant parties, including a UN envoy, his office said.

Among other things, Abbas requested accession to the Geneva Conventions, which establish standards of conduct and treatment of civilians at times of conflict, and to various human rights treaties.

The International Criminal Court was not on the list. The ICC is seen by some as the Palestinians' "doomsday weapon" because it could theoretically open the way to war crimes charges against Israel over its settlement construction on war-won land.

Abbas' step came at a time when Kerry's mediation efforts already appeared in trouble. Kerry had set an April 29 deadline for the basic outlines of an Israeli-Palestinian deal, but in recent weeks was pushing both sides to extend the talks until the end of the year.

The Palestinians said they would not discuss an extension until the last group of veteran prisoners was released. Israel, in turn, was trying to make that group part of a new deal on extending the talks.

Earlier this week, Kerry apparently raised the possibility of throwing the fate of US spy Jonathan Pollard into the mix in hopes of breaking the logjam. Consecutive Israeli prime ministers have lobbied for an early release for Pollard, an American Jew who has served nearly 30 years for spying for Israel.

Kerry suggested Tuesday that no progress has been made on a prisoner swap, though he did not refer to Pollard by name.

"At this point in time, no agreement has been reached with respect to any prisoner," Kerry said.

Separately, Palestinian officials have said Israel offered to show "restraint" on settlement building, including suspending government tenders for new construction, if talks are extended into 2015.

The Israeli anti-settlement group Peace Now said such an offer is largely meaningless because thousands of settlement apartments have already been planned or are under construction. The Palestinians seek a complete settlement freeze if negotiations are to be extended.

On Monday, Israel renewed a call for contractor bids on 708 homes in Gilo, an Israeli settlement in east Jerusalem, said Hagit Ofran of Peace Now.

Ofran questioned the timing of the tenders, which were originally published in November. She said she suspected it was done to "make problems" in the faltering Israeli-Palestinians negotiations.

Arik Ben Shimon, a spokesman for Israeli Housing Minister Uri Ariel, said the tenders were reissued because earlier calls for bids failed to attract contractors. He said the timing was unrelated to the talks.