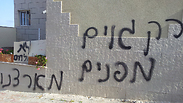 "Only goyim should be evacuated from our land"
Photo: Ido Beker
The tires 40 vehicles were slashed and a nearby wall was spray painted with a message reading "only goyim should be evacuated from our land" in the village of Jish in the Upper Galilee, in the vicinity of Safed.

Police has launched an investigation into the incident, and the immediate suspicion is that the event is another "price tag" attack.

Related stories:

Some 3,000 people reside in Jish, and it is the only village in Israel with a predominantly Maronite-Catholic population. A third of the village's residents are Muslim.

"Only goyim should be evacuated from our land" (Photo: Ido Beker)

Northern District Police Chief Major General Zohar Dvir spoke with Jish mayor and said that "this is a criminal and despicable phenomenon.

Head of Safed Police Chief Superintendent Yoram Azulay said: "We received a report about hateful graffiti and several vehicles that were damages and their tires slashes. We are dealing with outlaws, and will do everything to bring them to justice. This is an exceptional and serious event."

On Tuesday, during the visit of US Secretary of State John Kerry to the region to attempt to reignite negotiations between Israel and the Palestinians, hateful graffiti appeared on the walls of the Deir Rafat Monastery in the vicinity of Beit Shemesh. The walls were spray painted with messages such as "America is Nazi Germany", "price tag", "monkey Jesus" and "cow Maria". In addition, tires of three cars and a truck were slashed. Jerusalem District Police launched an investigation into the event.

A week earlier another price tag event was documented in East Jerusalem, when the tires of 34 cars and a bus were slashed, and the vehicles were spray painted with the message "goyim in Israel = enemies."