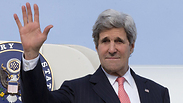 US Secretary of State John Kerry
Photo: AFP
Frustrated by Israeli and Palestinian actions that have complicated his furious effort to salvage foundering peace talks, US Secretary of State John Kerry on Thursday exhorted leaders on both sides to "lead" and to do so now to prevent the negotiations from collapsing.

In Algeria for strategic security talks after traveling to the Mideast twice in the past 10 days to rescue the peace process, Kerry said there are limits to what the Obama administration can do to push the parties together. He vowed to continue his efforts "no matter what." But he also stressed he could not force Israeli Prime Minister Benjamin Netanyahu or Palestinian President Mahmoud Abbas to continue the talks, let alone actually resolve the long-running conflict.

"You can facilitate, you can push, you can nudge, but the parties themselves have to make fundamental decisions and compromises," he said. "The leaders have to lead and they have to be able to see a moment when it's there."

Related stories:

He recalled the old adage that you can lead a horse to water but can't make it drink.

"Now is the time to drink," Kerry said. "The leaders need to know that."

Kerry has spent much of the last two weeks frantically trying to keep the peace talks from breaking down. He saw Netanyahu in Israel on Monday and Abbas last week in Jordan, but cancelled a return trip on Wednesday after the Palestinians said they would seek greater United Nations recognition over Israeli objections. Abbas announced the move after Israel refused to release a group of Palestinian prisoners it had earlier agreed to free.

Both actions run counter to the agreement the two sides reached last year to negotiate a settlement by the end of April.

Despite eight months of talks, there have been few, if any, tangible signs of progress. Confronted with the deadlock, Kerry and his team have incrementally lowered the bar for success of the talks from a comprehensive peace deal to a framework for an agreement and are now trying merely to keep the two sides talking beyond the initial target date.

Kerry said both Netanyahu and Abbas have told him they remain committed to the process and noted that Israeli, Palestinian and US negotiators met last night even in the face of the latest difficulties.