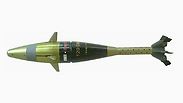 New model of a GPS-guided mortar shell
Could this be the answer to rocket launching terror cells in Gaza? The IDF is set receive a new model of a GPS-guided mortar shell, developed by Israel Military Industries. The weapon is designed to deliver a quick strike against terrorist cells, especially those in the Gaza Strip, and was given the original name "Morty" (Patzmi, a play on the Hebrew acronym for mortar).

"Mortar shells were always considered an inaccurate weapon that hit only the target area and not the target itself," a security source told Ynet. "Turning the mortar shell into an accurate weapon with the help of GPS is a real revolution."

Relaed stories:

Up until now, the IDF was equipped with shells and bombs of a varying sizes which could be fired from both air and ground launchers (such as the Tamuz missiles, an advanced electro-optic missile mostly used near the border with Syria). However, during the recent escalation in the south, the poor weather conditions and low clouds made it a difficult to hit targets accurately.

The success of recent tests prompted the Military Industries to declare the mortar shells operational. The "Morty" has an operational range of 8 kilometers (5 miles) and an accuracy level of several meters in relation to the location details entered into the GPS system and is also considered to be relatively inexpensive in comparison with other mortar shells.

"Morty" will be available for mortar units within the infantry battalions, and will be fitted for launchers of 120 millimeter. The missile will be able to be fired from an APC, and will also be sold and fitted for ally armies fighting in Iraq and Afghanistan.

The missile's warhead can be programmed to explode a meter or two above the target and not only upon contact with it.

This possibility will increase the deadliness of the shrapnel scattering against targets such as terror cells hiding in building, fields or armored vehicles.