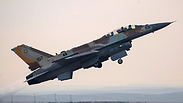 F-16 fighter jet
Photo: EPA
Israel Air Force planes attacked five terror targets in the Gaza Strip overnight in response to rocket fire at southern Israel Thursday evening.

All targets were hit, the IDF said. Four of the targets were in the north of the Strip and one was in the center.

Palestinian sources in the Gaza Strip said the IAF attacked several targets in Gaza City and in the northern Strip. Some of these targets were outposts of Hamas' military wing, while others were launching pits. So far, no injuries or damages were reported on the Palestinian side.

Three rockets fell in open fields near the border fence with Gaza in the Shaar HaNegev Regional Council area near 9:20 pm. Code Red alert was sound. No one was injured and no damage was caused.

The recent escalation was in the middle of last month, when dozens of rockets were launched towards southern Israel over the course of two days. The IDF struck dozens of terror targets in response from the air and with artillery fire. After two days, Islamic Jihad, that took responsibility for the rocket fire, announced a truce. Following the shooting, Israel stationed Iron Dome batteries in Beersheba and near Ashdod.