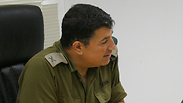 IDF Coordinator of Government Activities in the West Bank Yoav Mordechai
Photo: Alex Kolomoisky
Israel is considering retaliatory measures against the Palestinians in response to their renewed drive for international recognition, Israeli media reported on Friday.

Prime Minister Benjamin Netanyahu and Defense Minister Moshe Ya'alon have asked the IDF Coordinator of Government Activities in the West Bank, General Yoav Mordechai, to draw up a range of options, Haaretz reported.

The move came despite appeals from Israel's US ally for politicians on both sides to demonstrate leadership and refrain from "unhelpful" tit-for-tat moves that further jeopardise the teetering peace process.

Related stories:

Israel says the Palestinians' application on Tuesday to adhere to 15 international treaties violated the undertakings they gave when the peace talks resumed last July.

The Palestinians counter that the treaty move was a response to Israel's refusal to release a fourth and final batch of Palestinian security prisoners which they say reneged on its own undertakings.

Haaretz said the options under consideration included withholding tax revenues levied by Israel on behalf of the Palestinian Authority.

Israel briefly imposed the same financially crippling measure in December 2012 to punish the Palestinians' successful drive for observer state status at the United Nations, over its own strong opposition and that of Washington.

Other options under consideration include tightening the restrictions imposed on Palestinian activities in the more than 60 percent of the West Bank which is under the control of the IDF, Haaretz said.

The Knesset was set to meet on Monday to debate the crisis in the peace talks, said the Israel Hayom newspaper, which is considered close to Netanyahu.

Justice Minister Tzipi Livni, who is Israel's chief negotiator in the peace talks, told the Palestinians on Thursday that there had been a chance of a belated release of the final batch of prisoners, who had been scheduled to be freed last weekend.

But she said it had been scuppered by the Palestinians' treaty move and abandoned, a source close to the talks told AFP.

US Secretary of State John Kerry, who has pursued more than a year of intensive shuttle diplomacy between the two sides, spoke by telephone to Netanyahu on Thursday afternoon, and to Palestinian president Mahmud Abbas afterwards, US officials said.

Kerry threw down the gauntlet, telling both sides it was time for compromise at what he called a "critical moment" in the peace process.

"You can facilitate, you can push, you can nudge, but the leaders have to lead, and they have to be able to see a moment when it's there," he said.