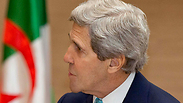 Reality check time.
Photo: Reuters
RABAT - US Secretary of State John Kerry said the United States was evaluating whether to continue its role in Middle East peace talks after both Israeli and Palestinian sides had taken steps that were not helpful to the negotiations.

Speaking during a visit to Morocco, Kerry said it was "reality check time" and there was a limit to the time the United States could spend on the peace process if the parties themselves were unwilling to take constructive measures.

"This is not an open-ended effort, it never has been. It is reality check time, and we intend to evaluate precisely what the next steps will be," Kerry said.

Related stories:

Kerry said he would return to Washington on Friday to consult with the Obama administration on the next step. US officials said Kerry had been blindsided by moves by Israeli and Palestinian leaders that affected the negotiations process.

"There are limits in the amount of time and effort that the United States can spend if the parties themselves are unwilling to take construction steps in order to be able to move forward," Kerry said.

US officials said Kerry had been blindsided by recent Israeli and Palestinian moves that had compromised undertakings made when they launched the latest round of talks aimed at ending their enduring conflict last July.

"They say they want to continue, neither party has said they have called it off, but we are not going to sit there indefinitely," Kerry said, making his bleakest assessment yet of talks that he has dedicated a huge amount of energy to.

Talks have seemingly collapsed after an Israeli refusal to release the fourth and final group of Palestinian security prisoners led Palestinian Authority President Mahmoud Abbas to sign "letters of accession" to join 13 international conventions that gave the Palestinians greater leverage against Israel.

The Palestinians also released a long list of demands to continue peace talks, one that Prime Minister Benjamin Netanyahu will have a hard time selling to his ring-wing cabinet.

A senior Palestinian official, Nabil Shaath, told Reuters that Abbas had not intended to upset Kerry, but rather to shine a spotlight on Israel's failure to release the prisoners.

"I think (Kerry) will return because we have not abandoned the process," said the veteran negotiator, speaking in Ramallah, the Palestinians' administrative capital in the West Bank.

"We will continue these negotiations as we agreed, and I wish for once that America's patience runs out - with Israel and not the Palestinians," he added.
Abbas refuses to take back UN move
Kerry, on his part, called on Netanyahu and Abbas to lead and work to avoid the peace talks from collapsing.
"You can facilitate, you can push, you can nudge, but the parties themselves have to make fundamental decisions and compromises," he said on Thursday. "The leaders have to lead and they have to be able to see a moment when it's there."
In his phone conversation with Abbas on Thursday evening, Kerry asked the PA president to rescind membership applications to the15 UN agencies, a request Abbas refused, a Palestinian official told AFP.
"Kerry added that Israel threatened a strong response to Palestinian actions" and called on Abbas to limit Palestinian demands to extend peace talks beyond the deadline of April 29, saying that those currently posed would be difficult to accept for Israel, the official added.
"Our demands are not numerous and Israel's threats no longer scare anyone, and they can do what they like," Abbas responded, according to the official.
With both sides looking to blame the other for the impasse, Finance Minister Yair Lapid said he questioned whether Abbas wanted a deal, pointing to a lengthy list of Palestinian demands published.
These included lifting a blockade on the Gaza Strip, and freeing a group of high profile prisoners, including Marwan Barghouti, jailed a decade ago over a spate of suicide bombings.
"(Abbas) should know that at this point in time his demands are working against him. No Israeli will negotiate with him at any price," said Lapid, one of the more moderate voices within Netanyahu's rightist coalition.
AFP contributed to this report.