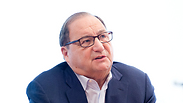 Abe Foxman
Photo: Amitai Roderman
Political anti-Semitism remains a threat in the US, a top Jewish-American leader said Thursday to a delegation of Knesset members visiting New York.

"We do polling in America. Thirty percent of the American people believe that Jews are more loyal to Israel than the United States. This is a political anti-Semitism," said Abe Foxman, the National Director of the Anti-Defamation League.

The veteran activist told the MKs that "there is a level of insecurity" in American Jewry and there are stereotypes in American culture that claim Jews can't be trusted and aren't loyal.



He warned the Israeli legislators that "Jews are not as secured in (the US) as they pretend to be. We are not as powerful as (Americans) think we are nor as powerful as we pretend to be."

The meeting was an initiative of the Ruderman Family Foundation, which brought the MKs to New York and Boston as part of its program to connect Israelis to Diaspora Jewry.

Related stories:

The ADL director also addressed rumors of jailed American-Jewish spy Jonathan Pollard being released as part of a complicated American scheme to salvage the negotiations between Israel and the Palestinians: "He spied for you against us. You've got to be able to differentiate - we are Americans."

Foxman on Pollard (Video: Dvir Assouline):

Foxman emphasized the Pollard affair was difficult for American Jews: "This was an issue that embarrassed the American Jewish community, which undermined its ability to help Israel."

But the ADL leader was quick to say that American Jewry's support for Pollard continues to grow. Foxman even questioned the lengthy sentence Pollard has been serving, saying "the only explanation I now have is that it borders on anti-Semitism. There is no reasonable, rational explanation as to why he's still being kept."

According to the rumors, the US was considering freeing Pollard as an incentive for Israel to release 400 Palestinian prisoners in a goodwill gesture to convince Abbas to extend the peace talks beyond their April deadline.

The ADL director did not agree with the exchange: "I understand where the Israeli government is coming from, but to exchange him for murderers of innocent men and women in Israel? What a perversion of everything!"

The MKs who met with Foxman are participating in the 2014 Ruderman Knesset Fellows program and their visit in the United States is intended to strengthen the relationship between Israel and the Diaspora.

The delegation included six legislators from across the political spectrum: Nachman Shai (Labor), Shimon Solomon (Yesh Atid), Dr. Shimon Ohayon (Likud- Yisrael Beiteinu), Michal Rozin (Meretz), Shuli Mualem-Refaeli (Bayit Yehudi), and Itzik Shmuli (Labor).