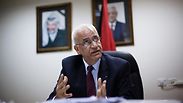 Saeb Erekat
Photo: Reuters
The Palestinians want to avoid a clash with the US over Secretary of State John Kerry's disintegrating Mideast peace mission, but will no longer feel bound by his ground rules if Israel fails to live up to its commitments, the chief Palestinian negotiator said Friday.

Kerry's efforts ran into serious trouble this week, as Israel failed to release the last agreed-upon group of prisoners on time. In response, Palestinian President Mahmoud Abbas on Tuesday signed letters seeking Palestine's accession to 15 international conventions. Israel responded Thursday, saying it would not release the last group of prisoners.

Yet chief Palestinian negotiator Saeb Erekat said Friday that the next Palestinian move depends on Israel.

"We signed 15 (conventions), but there are still 48 treaties, conventions and agencies that we have not signed yet," he told journalists. "If the Israelis release the 30 prisoners, we are committed not to join these agencies, treaties and conventions, but if they (the Israelis) don't, we have a free hand."

Related stories:

"We don't have anything to lose," Erekat said, but added that the Palestinians also want to avoid a clash with the Obama administration.

"The focus now is really, we want to avoid the crash (of the talks), we don't want to undermine the American efforts," he said. Erekat met earlier Friday with US mediator Martin Indyk.

Earlier Friday, Kerry chided both sides for taking steps "that are not helpful" and said the Obama administration is reevaluating its Mideast initiative.

Kerry said the Israeli-Palestinian peace talks cannot continue to occupy so much of his time if Israelis and Palestinians are unable to take even minor steps toward making the negotiations successful.

As part of Kerry's ground rules for negotiations, the Palestinians promised to suspend efforts to sign up a "state of Palestine" – recognized as a non-member observer by the United Nations in 2012 – in international agencies and conventions. Israel, in turn, pledged to release 104 long-held Palestinian prisoners during the negotiations, with the last of four groups to be freed by late March.

Kerry initially hoped to have a full agreement by April 29, but then scaled back, trying to reach at least a framework deal by the target date. In recent weeks, he seemed to settle for trying to win agreement on the terms of extending the talks until the end of the year, but even that proved elusive.

However, with both sides digging in and Kerry's patience wearing thin, there was no apparent way out. Failed negotiations have in the past led to major bouts of violence and there is growing concern about new bloodshed.

On Friday, several hundred Palestinians threw stones and set tires on fire in a clash with Israeli troops near a West Bank military checkpoint. Troops fired rubber-coated steel pellets and tear gas, lightly injuring five Palestinians, the military said.

In Israel, meanwhile, one of the most outspoken proponents of negotiations with the Palestinians distanced himself from Abbas. Finance Minister Yair Lapid of the centrist Yesh Atid party wrote on his Facebook page that negotiations require two sides interested in a deal.

Abbas' "conduct over the past 24 hours raises serious doubt about whether he is really interested in reaching an agreement," wrote Lapid, whose party is the second largest in Prime Minister Benjamin Netanyahu's center-right coalition.