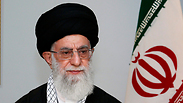 Ayatollah Khamenei
Photo: AP
Within the small community of minority Arabs where he lived in southwest Iran, Hashem Shaabani was known as a teacher, an advocate for civil rights and a poet. But to the Islamic Republic he was seen as a threat.

Shaabani, 32, was arrested in February 2011 and accused of belonging to an armed separatist group. His family had minimal contact with him after his arrest, and in late January this year they received shocking news: Shaabani had been executed.

"It made me question why we live in a society where something like this can happen," said a friend who asked not to be identified for personal security reasons. "It also made me think that we have a long road ahead before we can reach democracy and freedom."

Since President Hassan Rouhani, a relative moderate in Iran, took office last August, there has been a surge in executions: at least 537 people have been executed in the past eight months, nearly 200 of them since the beginning of this year, according to figures compiled by the Iran Human Rights Documentation Center. That compares with a total for 2013 of 624, according to data gathered by the United Nations.

Related stories:

Some human rights activists and others fear that those who oppose Rouhani and his negotiations with Western powers over the country's nuclear program are pushing the executions to weaken him.

"It's very much a show of a threat by ideological hardliners who want to demonstrate that Rouhani's election is not going to impact their domestic policies," said Hadi Ghaemi, executive director of the International Campaign for Human Rights in Iran. "They know that these executions are going to be very closely monitored and condemned by the international community. They are undermining Rouhani both domestically and internationally."

United Nations Secretary General Ban Ki-Moon and top UN human rights officials have already condemned the rise.

Last autumn, Ali Younesi, Rouhani's advisor for ethnic and religious minority affairs, told a group of minority political leaders that "extremists" were responsible for a rash of executions of Kurdish prisoners, according to a report on the Rooz Online news site.
Executions for dissidents
Hardliners in Iran have long pushed for the execution of those they see as a threat to the system. In 2010, after an uprising against the election of Rouhani's conservative predecessor, the head of Iran's Guardian Council, a body that regularly disqualifies reform-minded candidates for parliament, called for more executions of protestors.

The man with the power to rein in extremists in the judiciary and elsewhere, Supreme Leader Ayatollah Ali Khamenei, who has the final say on all state matters, has made no move to put a brake on the rise in executions.

Khamenei has given Rouhani his support for the negotiations with the West, and some believe he has sat on his hands over the executions as a counterbalance to appease hardliners.

"Khamenei is the ultimate balancer," said Trita Parsi, the president of the National Iranian American Council (NIAC). "He needs to make sure no one gets too popular and strong that they actually threaten him."

Iran's judiciary has regularly meted out capital punishment since the Islamic Revolution in 1979. In recent years, it has been second only to China in absolute numbers of prisoners killed, according to Amnesty International. Most are executed for drug offences, but human rights activists say many others appear to be political cases intended to send a message.
Targeting minorities
Last October, judicial authorities in southeast Iran hanged 16 prisoners in what the local prosecutor called a "reciprocal action" for an attack by insurgents that killed 14 border guards a day earlier.

Reuters sought comment from the public relations office for Iran's judiciary for this story, but all calls went unanswered, and no email address is listed on its website.

There are prisoners from Iran's Shiite majority facing the death penalty for security-related charges or religious violations. But Iran's ethnic minorities, which include Arabs in the southwest, Kurds in the northwest and the Baluch in the southeast, are frequent targets because of concerns that they have separatist aspirations.

When Shaabani was arrested in 2011 in the town of Ramshir in southwest Iran, he was teaching Arabic literature at a local high school and promoting Arab culture through a non-governmental organization he helped start called Al Hiwar, or Dialogue. He also composed poetry, sometimes with political themes.

But Shaabani's friend, who also worked at Al Hiwar, said he had no ambitions to be a political leader and did not endorse armed struggle to achieve further rights for the Arab minority.

"He was an academic. He was the type of person who would listen when he was in a group rather than lead discussions," said the friend in a telephone interview.
Forced confessions
In December 2011, Iran's government-linked Press TV aired a program in which Shaabani appeared to confess to having ties to an armed separatist group, but rights activists and Shaabani's friend say he had been subjected to months of physical and psychological torture. In a letter smuggled out of jail and posted on activist websites last summer, he maintained his innocence.

Hardly anyone among Shaabani's friends and family expected the grim news that came in late January. Another young man who was arrested at the same time as Shaabani, Hadi Rashedi, was killed on the same day, according to rights activists aware of the case.

Shaabani's family was warned not to hold a funeral, and his wife and young daughter are still waiting to receive his body, according to the friend.

For now, Rouhani is pre-occupied with the nuclear negotiations and grappling with economic sanctions, observers say, but successes there could give him the political capital to push back against hardliners on issues such as executions.

"There is an understandable fear amongst the conservatives, who got beat really bad in this election, that if Rouhani is successful, the political setback that they suffered may not be a temporary shift in their popularity or their political power but can end up becoming something more permanent," said Parsi of the NIAC.

In the meantime, the executions are likely to continue.

Two weeks ago, two Iranian-Arabs accused of being members of an armed separatist group were transferred to an unknown location from their prison in southwest Iran. Because of the Shaabani case, the relatives of one of the detainees, Ali Chebeishat, a farmer and father of seven, fear the worst.

"Has he been executed? Where have they taken him?" said one of his close relatives, who asked not to be identified. "We don't know what to do. Is he alive, or should we mourn?"