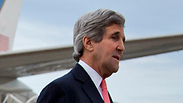 WASHINGTON – After Secretary of State John Kerry's exasperated remarks about the lack of progress in the peace process, the State Department clarified Friday that the US had no intention of backing away from negotiations.

However, the diplomatic arm of the US government said the administration was planning on conducting an assessment of the negotiations in their current iteration before deciding on how to proceed.

The Americans expect both Israel and the Palestinians to change their stance in order for the negotiations to continue productively.

Kerry is set to arrive in Washington, DC on Friday from Morocco, where he will meet with President Barack Obama to discuss America's role in the Mideast peace process and possible future steps.

Related stories:

Special envoy Martin Indyk is in Israel, continuing his talks with both parties. Het met Friday afternoon with Justice Minister and Chief Negotiator Tzipi Livni.

Yet, speaking at the weekly press briefing, deputy White House spokesperson Josh Earnest emphasized that "the decisions that need to be reached to find common ground cannot be imposed by the US or any other country in the world."

Deputy State Department spokesperson Marie Harf also expressed US support for the peace process during her department's weekly press briefing, saying "We are still at the negotiating table. The parties have said they want to continue. We are focused on continuing."

Harf further clarified Kerry's remarks in Morocco, "As the secretary said, there are limits to the amount of time and effort the United States can spend if the parties themselves are unwilling to take constructive steps. Both sides have taken unhelpful steps. That's why we are where we are today."
'Reality check time'
Earlier on Friday, Kerry said the United States was evaluating whether to continue its role in Middle East peace talks after both Israeli and Palestinian sides had taken steps that were not helpful to the negotiations.

"This is not an open-ended effort, it never has been. It is reality check time, and we intend to evaluate precisely what the next steps will be," Kerry said.

At the briefing Harf said Kerry enjoyed full backing from Obama, and that the State Department and the White House are "on the same page in trying to figure out where we go from here."

White House spokesperson Earnest echoed the cooperative sentiment, saying "Secretary Kerry has played a very important role in trying to facilitate conversations between the Palestinians and the Israelis."

He added that Kerry "was doing that not because it was obvious that an agreement could be struck... it's been very difficult for generations for the Israelis and the Palestinians to resolve their differences and he has worked tirelessly on the issue."