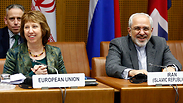 Writing of draft to start in May.
Photo: Reuters
VIENNA - A senior US administration official involved in the talks said Friday that Washington hoped to begin drafting a final status nuclear agreement with Iran at the next negotiations meeting in May.
"We are looking to ensure we have the right combination of measures in place to ensure Iran cannot acquire a nuclear weapon and that its program is exclusively peaceful," the US official said.
"As we work to bridge the gaps that exist to see if we can find that right combination, the pace of our work will intensify even more than it is today."
Related stories:
Iran and six world powers - the United States, China, Russia, Britain, France and Germany - have negotiated an interim deal in November meant to freeze Tehran's nuclear program for six months to allow for final agreement talks to take place. In return, the Islamic Republic has received some sanctions relief that has allowed its economy to start recovering after years of harsh sanctions crippled it.
Following three days of talks in Vienna, Iran's chief nuclear negotiator said talks between technical experts from Iran and world powers preparing for a third round of negotiations next week were "useful."
"The technical positions help us to understand better our respective positions," Hamid Baeedinejad told the IRNA news agency after three days of discussions in Vienna.
The meeting came ahead of talks between political directors from Iran and the six powers in Vienna from Tuesday, the third such round this year.
These negotiations are aimed at turning the interim deal that expires on July 20 into a lasting accord that ends once and for all the decade-old standoff over Iran's nuclear program.
Baeedinejad noted that the process of drafting the final agreement would begin in the Iranian month of Ordibehesht, which runs from April 21 to May 21, echoing Iranian Foreign Minister Mohammad Javad Zarif last month.
The US official also warned that an oil-for-goods deal reportedly being negotiated between Russia and Iran would be "inconsistent" with the November agreement and "could potentially trigger US sanctions against the entity and individuals involved."
Such a deal between Moscow and Tehran would undermine Washington's efforts to cut off Iran's main source of revenue -- a strategy which the US credits with forcing Tehran to the negotiating table in the first place.
Iran denies seeking nuclear weapons and wants all UN and Western sanctions lifted.