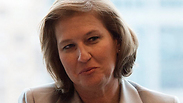 More direct talks are needed.
Photo: EPA
Israel's chief peace negotiator, Justice Minister Tzipi Livni, said Saturday Prime Minister Benjamin Netanyahu and Palestinian Authority President Mahmoud Abbas should talk directly.

Speaking to Channel 2's Meet the Press, Livni lamented a lack of direct meetings in the past eight months of negotiations, and said the United States should change its role in the Mideast peace process.

Talks resumed under US Secretary of State John Kerry's intensive brokerage in July after a three-year stalemate. Israeli and Palestinian negotiators met regularly for direct talks, but the United States stepped up its involvement in the past few months.

The US-brokered peace talks veered toward collapse this week, prompting a warning from Secretary of State John Kerry on Friday, that Washington was evaluating whether it was worth continuing its role in the negotiations.

"Part of what happened in the past few months was more negotiations between us and the United States and less with the Palestinians," she said.

Related stories:

"I believe that you can better understand where the other side is coming from when you meet them and talk to them," she added.

"I believe we need to move to more meetings, more direct negotiations, more than we have had so far, and I think the Americans know this," Livni said. "American involvement - yes, but as facilitators of bilateral negotiations."

Livni noted the intense American involvement was positive as it served to encourage the sides to discuss the core issues, something that was not as prevalent in previous negotiations.
Unhelpful moves on both sides
The talks were catapulted into crisis when Israel refused to act on a previously agreed release of Palestinian prisoners unless it had assurances the Palestinians would continue negotiations beyond an initial April 29 deadline.

Discussing what the United States dubbed as "unhelpful, unilateral actions" on both sides, Livni defended Israel's decision to postpone the fourth prisoner release.

"I made it clear to the Americans and the Palestinians that I will not release the Israeli (Arab) prisoners unless it's in a different context, this is something they knew since day one," she said.

"I need to honestly look into the victims families' eyes and tell them - 'yes, we're making that decision for something real.' And that's why we wanted to created that something that was real that included the extension of peace talks. The Palestinians heard this from me," she added.

Livni did not spare any criticism from Housing Minister Uri Ariel (Bayit Yehudi) whose recent announcements on the approval of more tenders for construction in the disputed territories was done "under the intention of torpedoing what I'm doing with the prime minister."

"The result of that is mostly that the entire world is claiming that we are to blame even though we acted appropriately alongside the United States," she said.

"This is the price of having Uri Ariel and Bayit Yehudi in the government. I did not choose to have them there. I didn't want them there and they are constantly damaging," Livni added.

Both Bayit Yehudi leader Naftali Bennett and Housing Minister Uri Ariel responded to Livni's accusations with the same advice: "Speech is silver silence is gold."

"Minister Livni has an egg on her face. She got endless leeway to make peace, including the release of low murderers, and totally failed. Now she is looking for someone to blame other than herself," Ariel wrote on his Facebook page.

"Her lamenting and crying over the construction in Jerusalem and Judea and Samaria is no more than crocodile tears of one who knew of them in advance, just like the Palestinians and Americans," he added.
Palestinian impatience
On the Palestinian end, Abbas' decision to sign 15 international conventions, mainly through the United Nations, "was a blunt violation and a big mistake that is going to make it very hard on us to return to normal," Livni said.

Livni noted the Palestinians knew Israel was working hard with the Americans to reach an agreement that will allow the release of the fourth group of prisoners.

"We had no intention to free (the prisoners) and find ourselves a month later with (the Palestinians) walking out and turning to the UN," she said.

Criticizing the Palestinian move, Livni said that "the Palestinians may think that at the UN it will be easier for them because an agreement with Israel means concessions on their part, but a Palestinian state will eventually only happen through negotiations."

She also accused the Palestinians of being impatient and unwilling to wait.

"If I were to have a contract with you, and I were to commit to do something at a certain date, and I'd come and tell you, 'listen, there's a problem. We need to postpone for a few days.' If you really wanted that contract, you'd wait these few days. But if you were just looking to prove a point, you'd say - (I'm willing to wait) until tomorrow at a certain time," she asserted.

When asked whether she considers PA president Abbas to be a partner for peace, the justice minister insisted he would have to prove himself "but making real decisions in the future."

But there is a silver lining for Livni. The current crisis in talks, she said, was not about substantial issues, and she intends to continue working diligently to reach a peace agreement.

"I'm not willing to give up. Even when (the Palestinians) don't want this. This is exactly where the American involvement is important. Among other things, they're here to make us continue talks, not in a fruitlessness process, but making real decisions," she said.

Palestinian and Israeli officials said on Saturday that US envoy Martin Indyk was due to meet Livni and Chief Palestinian negotiator Saeb Erekat on Sunday to try and save the talks.

"We will have to struggle to see how we fix it, how we make progress and what we must do to move forward. It is not simple, it is very complicated. It is a real crisis," Livni said.

Reuters contributed to this report.