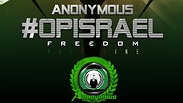 #OpIsrael promotional material
A number of pro-Palestinian hacker collectives, united under the Anonymous banner, plan to execute a wide-ranging cyber-attack on Israel.

Called #OpIsrael by its promoters, the operation directs the massive network of hackers to focus on Israeli institutions and organizations in their sabotage efforts, for the second year in a row.

"On April 7, 2014, we call upon our brothers and sisters to hack, deface, hijack, database leak, admin takeover, and DNS terminate the Israeli Cyberspace by any means necessary," the hackers threatened.

#OpIsrael publicity material

But there was no dramatic rise in cyber-attacks over the weekend, even though the hacker collective was bragging and boasting of their accomplishment on Twitter.

Related stories:

The hacker groups leading the charge on #OpIsrael's birthday have members in the Palestinian Authority, Syria, Iran, India, Malaysia, and Jordan.

The cyber-threat will most likely focus on "denial of service" attacks – in which a website is inundated with thousands of requests until it crashes. The targets are primarily financial institutions like banks and credit card companies, but academic institutions and government ministries are also under threat.

Last year, the first #OpIsrael was accompanied by much media fanfare and the hackers proudly boasted of their achievements – though, in reality, very little damage was caused.

Several hundred small sites were vandalized to carry anti-Israel messaging, and the websites of government ministries experienced slow-downs and were periodically inaccessible. Small amounts of sensitive personal data – some of it outdated – were leaked on the web.

The hacker collective is expected to again focus on governmental bodies and organizations, as opposed to home users, but personal users will likely notice slow-downs on specific sites. The hackers may also try to spread viruses through Facebook and email.

In the worst case scenario, sensitive data like personal details, passwords, and credit card information may be compromised. Still, experts say there is no need to take special precautionary measures like unplugging the home internet connection.