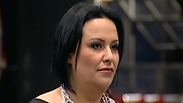 Nof Atamna-Ismaeel. 'One of the most exciting experiences of my life'
Dr. Nof Atamna-Ismaeel, a 33-year-old microbiologist from the northern Israeli Arab city of Baqa al-Gharbiyye, is the big winner of the fourth season of reality cooking show "Master Chef Israel."

Atamna-Ismaeel won the final after a tight battle against 54-year-old Ido Kronenberg of Savyon. Meseret Woldimikhal, a 42-year-old Ethiopian native, came in third.

Diplomatic Contest

Want to show off your Indian cooking skills? Winner of competition announced by Indian ambassador will receive a vacation in land of curry.

The winning dish, which Atamna-Ismaeel named "Sultan's Spring," was made of stripped red mullet with almond cream and a fresh vegetable salad.

"It was one of the most exciting experiences of my life," she said after being declared the winner.

During the "Master Chef" season, Atamna-Ismaeel discussed her dream of opening open a Jewish-Arab cooking school which would attract students from all over the country, and she will now try to fulfill it.

In addition to her PhD in biological science, Atamna-Ismaeel has as many as four additional postdoctoral degrees. She has three children, a six-year-old boy and two-year-old twins, and as a child she studied in a Jewish school.

Her mother, a Hebrew teacher, gave her daughter the name Nof after watching a television series on Jordanian TV about a girl with that name, which is common among desert nomads and means the highest spot on the camel's hump.