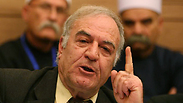 Said Nafa
Photo: Gil Yohanan
The Nazareth District Court convicted former Balad Knesset Member Said Nafa of contact with a foreign agent, illegal exit to an enemy country and aiding other to exist to an enemy country.

Nafa was acquitted of another charge of contacting a foreign agent after no evidence was found that he had met with the leader of the Hamas political bureau Khaled Mashal.

The offenses were committed in 2007 while Nafa, citizen of Beit Jann, served in the Knesset. Religious Druze leaders turned to him for help to organize a trip to Syria, and Nafa helped them though the Interior Ministry did not approve the trip. Nafa was aided by former Knesset Member Azmi Bishara, who left the country of fear he would be accused of security offenses and Nafa replaced him in the Knesset.

In September 2007, 282 religious leaders, joined by Nafa, crossed the border into Syria. Nafa stayed in the enemy country for seven days, in which he met with secretary general of the Popular Front for the Liberation of Palestine – General Command (PFLP-GC), Talal Naji.

Nafa denied at first that he had met with Naji and claimed that his assistance, who joined him on the trip, was the one who met with him. Eventually, Nafa confirmed at court that he had met with Naji, but claimed it was a coincidental meeting, without prior scheduling, and was not secretive.

Related stories:

Judge Ester Helman, who wrote the verdict, stated however that "it was a meeting that was planned ahead of time, and its very existence was kept secret. The defendant was surprised and could not believe the investigators learned about the meeting. He made every effort to deny it and to find out how the information was leaked, knowing that such an encounter crossed red lines, as he himself defined."

The defendant denied the third charge – a meeting with the leader of the Hamas political bureau Khaled Mashal, however confirmed that Nazi tried to coordinate such a meeting through the phone in his office, while Nafa was present. However, the only evidence proving the meeting indeed took place is a box of candy Nafa told his assistant he had received from Mashaal – and the assistant's testimony. According to the judge, it can be proven that the meeting was arranged, but there is not enough evidence to convict Nafa in executing the meeting.

In regards to the trip to Syria and aiding the delegation of religious leaders, Nafa was convicted of offenses of illegally exiting to an enemy state and aiding the offense. The judge ruled that not only did Nafa help the delegation members obtain the required approvals and coordinate the visit, but he also took responsibility for the delegation's behavior in Syria. His sentence will be determined at a later time.