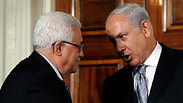 Package deal off the table.
Photo: Reuters
A tripartite meeting between Israeli and Palestinian negotiators and US envoy Martin Indyk to try to save the peace talks did not lead to any progress Sunday, Palestinian sources said.

"The crisis continues. Throughout the meeting, the Israelis threatened the Palestinians and no solution was found to the crisis," Palestinian officials told AFP on condition of anonymity.

Israeli officials said earlier Sunday that Israel was gravely concerned the peace process will collapse completely in the very near future, but noted that efforts to reach some sort of understandings that would allow continuing talks continue.

While different Israeli officials familiar with the talks expressed slightly different positions, the overall tone of their comments was pessimistic.

Related stories:

"The way it's looking now, the talks as they were several weeks ago are no longer relevant. Last week's package deal (offered to the Palestinians) is now off the table and Israel is preparing to return to routine dealings with the Palestinians as they were before the negotiations started nine months ago," one official said.

"As far as we're concerned, the coordination on the ground with the different security forces continues, but the peace process is no longer relevant," he added.

Despite that, the officials stressed that Israel was still waiting to see how the United States decides to act following US President Barack Obama's meeting with Secretary of State John Kerry.

"We are noticing a real coolness in the way the Americans are treating (the peace process), and it's obvious that today's Kerry is not the same Kerry from a few weeks ago," one of the officials said.

Another official said current talks are heading in a bad direction, but said he believed another chance needs to be given to Israeli chief negotiator Tzipi Livni's efforts.

"We have to wait a few more days. The direction is not good, but I wouldn't rush to call it a complete collapse of the talks. A lot of efforts are being done to salvage the situation," he said.

Israel also clarified that despite punitive measures taken against the Palestinians following their decision to join UN agencies, it will refrain from making any moves that would significantly damage the Palestinian Authority's economy, as that would hurt Israeli interests as well.