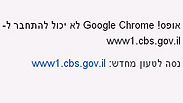 Notice that Central Bureau of Statistics website is down
The international hacking group Anonymous and other group of hackers have declared Monday a day of cyber attacks on Israel, but so far have not managed to bring down many websites. Israel's Post Office and the Education Ministry websites were temporarily disabled, and the hackers published an online list of phone numbers belonging to Israeli senior officials.

The Technion's center for strategic and scientific study, which coordinates efforts to neutralize these attacks, said Monday that the attacks "were not sophisticated".

The Education Ministry website was briefly disabled to deter a serious hit, but after a short time it was back in business. Groups of hackers have published online that they have only managed to crash a few private websites.

The attack was launched by Anonymous and other groups in retaliation for Israeli attacks on Gaza. As part of the organized hacking event, called "OpIsrael", hackers published a list of Israeli government websites and a tool that is supposed to bombard them with artificial requests.

On Monday morning, hackers published lists of telephone numbers, emails and passwords that they claimed belong to senior Israeli officials. It's unclear where the information came from, but analysis shows that the lists are from last year and the information is only partially correct. It is impossible to use the information as the passwords are encrypted, but with some effort it is possible to decode them, in particular if the user has the same password for several online accounts. Users are reguarly recommended to update their passwords regularly and choose complex passwords that include lowercase and uppercase letters, numbers and symbols.

Computers belonging to individuals, organizations and government agencies in Israel are continuously under attack, as are computers across the world. But during periods of IDF operations or hostilities, or when a systematic attack is coordinated, there is greater motivation – and attempts - by hackers around the globe to target Israeli computers. When these attacks prove successful, the details are published online, and hackers are encouraged to repeat them.

In these attacks, the hackers target "weaker" websites, and try to bring them down via distributed denial of service (DDoS), which often means inundating a website's servers with requests, thereby causing an overload. These DDoS attacks, however, are normally resolved within a short period of time.

Greater damage is caused to a website when hackers manage to infiltrate the site's security systems at a low or moderate level and leak personal information about its users. This information can include names, emails, phone numbers and sometimes even passwords and credit card details. If a leak is detected in a timely manner, credit card details and passwords can be changed, although a user sometimes has the same password for multiple accounts and the damage to his or her personal information can be greater.

These kinds of leaks, however, are mainly designed to inspire fear, and the damage can be relatively easily repaired.