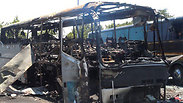 A burnt bus after the Burgas bombing
Photo: AP
The man who blew up a bus in a Bulgarian Black Sea resort in 2012, killing five Israeli tourists, was of Algerian origin and trained in camps in South Lebanon, the Bulgarian daily Presa said, quoting unnamed sources familiar with the investigation.

The EU country has named two men of Lebanese origin as suspected accomplices of the bomber, who died during the attack.

Related stories:

"The assailant was born in Algeria, lived in Morocco and was trained in camps in South Lebanon. He also studied at a Beirut university with the other two suspects," the newspaper said, quoting sources who declined to be named.

The Balkan country has identified the suspects as 32-year-old Meliad Farah, also known as Hussein Hussein, an Australian citizen, and 25-year-old Hassan El Hajj Hassan, a Canadian citizen, both of Lebanese origin.

The prosecutor's office, that is preparing an indictment for the attack, declined to comment.

Bulgarian Chief Prosecutor Sotir Tsatsarov said last Friday there is a new information on the bomber, which is likely to extend the investigation into the attack.

Meanwhile, Bulgaria's interior minister said Monday he is convinced that the Shiite militant group Hezbollah was behind the bombing.

Asked by reporters whether Hezbollah was responsible for the bombing, Tsvetlin Yovchev said that "all traces lead there."

"What we can prove in court is another matter," he said, and added: "If you're asking me if I am certain of this - yes, I am."