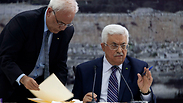 Abbas signing UN treaties
Photo: AP
RAMALLAH - The Palestinians are ready to sign up a "state of Palestine" for additional international agencies and treaties - a step Israel views as highly provocative - if US peace efforts collapse after an April 29 deadline for a deal, a senior official said Monday.

The warning by Mohammed Ishtayeh, an aide to Palestinian Authority President Mahmoud Abbas, came as US mediators tried to defuse the worst crisis in the negotiations since Secretary of State John Kerry persuaded the two sides last summer to resume talks for nine months.

Under the terms of renewed talks, Israel promised to release 104 long-held Palestinian prisoners in four groups, while the Palestinians said they would suspend a campaign to sign up Palestine, recognized by the UN General Assembly as a non-member observer state in 2012, for as many as 63 UN agencies, treaties and conventions.

Related stories:

After Israel last week failed to release the fourth group of prisoners on time, Abbas signed letters of accession for 15 international conventions. Israel then said the final prisoner release was off the table.

Israel has since asked Abbas to withdraw the letters of accession, according to an Israeli official close to the talks who spoke on condition of anonymity because he was not authorized to discuss the dealings between the two sides with the media.

Ishtayeh said the accession requests are irreversible.

Kerry originally hoped for a peace deal by April 29. He lowered his sights after months without progress, saying he sought a framework deal by that date. In recent weeks, negotiations focused on reaching agreement on extending the talks into 2015.

Ishtayeh said the Palestinians "are keeping the door open for any serious talks" until April 29, but that gaps on almost all issues have only widened and that Israel isn't negotiating in good faith.

Israel has also accused the Palestinians of not being serious about reaching a deal.

Ishtayeh said the Palestinians won't agree to an extension unless Israel first agrees to release the final group of prisoners.

If it becomes apparent by April 29 that Kerry's efforts have collapsed, the Palestinians are set to resume the recognition campaign, Ishtayeh said, without giving a timeline.

The 63 agencies, treaties and conventions have been divided into four groups, he said, adding that "the second tranche of UN organizations is ready for signing."

Asked about possible Israeli retaliation, Ishtayeh said he believes the Palestinians can count on continued financial aid from Europe and the Arab world.

Israel could face increasing international isolation if the Palestinian campaign for wider recognition succeeds. Israel has argued that it's a means of sidestepping negotiations.

Prime Minister Benjamin Netanyahu said Sunday that "we are ready to continue talks," while condemning the Palestinian moves.

Israeli and Palestinian negotiators met for several hours Sunday in the presence of a US mediator. The US Consulate in Jerusalem said the meeting was "serious and constructive." Another meeting was planned for Monday.

Also Monday, the director of a telecommunications company, Wataniya mobile, said Israel informed him it would not allow him to transfer equipment to Gaza. Fayez al-Huseni said Israel told him to hold off until further notice but that no reason was given. An Israeli official speaking anonymously because he is not allowed to brief the media about the issue said the ban is in response to the Palestinians move with UN bodies last week.