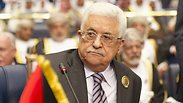 Abbas at an arab League meeting
Photo: Reuters
Palestinian Authority President Mahmoud Abbas requested an emergency meeting with the Arab League foreign ministers to discuss the recent crisis in Israeli-Palestinian peace talks.

Abbas and PA Foreign Minister Riyad al-Maliki were scheduled to leave for Cairo for the meeting on Tuesday.

According to Palestinian news agency Ma'an, Abbas plans to update the Arab foreign ministers on the latest development in the peace talks, including Israeli threats to take punitive measures against the PA after it applied to 15 international treaties.

Related stories:

The PA president was also expected to ask for the Arab League's support of the Palestinian position both politically and financially.

After a "serious and constructive" meeting the two sides had with US mediator Martin Indyk on Sunday, the Israeli and Palestinian negotiators were due to meet again Monday night to continue attempts to bring the peace process back from the brink of collapse.

But while the Palestinians were willing to "keep the door open for any serious talks" until the US-set deadline of April 29, they have taken a pessimistic tone, saying the gaps on almost all issues have only widened and that Israel isn't negotiating in good faith.

Palestinian officials went on to say that if peace talks fail, the PA would seek membership in 48 additional international organizations and conventions.

The 63 agencies, treaties and conventions have been divided into four groups, Abbas' aide Mohammed Ishtayeh said Monday, adding that "the second tranche of UN organizations is ready for signing."

Fatah official Nabil Shaath told Ma'an that talks will fail unless the US applies more pressure on Israel.

"If the US becomes convinced that the same approach will make no progress, then it will be possible to save the situation. Otherwise negotiations can't go on."

Shaath also claimed that the Palestinians could not make any more concessions after "giving up 78 percent of our land to Israel."

Accusing Israel of wanting "a framework for negotiations rather than a framework for a solution," Shaath insisted the Palestinians were only willing to negotiate on a final status agreement.