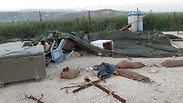 Tent used by IDF reservists after attack
Photo: IDF Spokesman
Six Border Police officers were lightly hurt early Tuesday in clashes with settlers as they moved to demolish illegal structures at the Yitzhar settlement. Local residents threw stones at the troops as they began the demolition work and the security station at the settlement was set alight.

Two police officers required medical attention. Settlers at Yitzhar branded the demolition a "price tag" attack carried out by the military in revenge for attacks on Israeli security personnel in recent days.

Representatives from the settlement expressed disagreement with the "total" destruction of military posts, but also blamed a "policy of collective punishment" and the allowance of violence by the police.

"It can't be that the Israeli government and security forces will destroy the homes of innocent people as part of the revenge for 'Price Tag' vandalisms because of the actions of a few individuals," they said in a statement.

IDF troops in the area have been subjected to a string of attacks by settlers in recent days, including having stones thrown military vehicles and tires slashed. Defense Minister Moshe Ya'alon said such incidents were "terror, plain and simple."

The puncturing of tires was a spit in the face, but this is knife being twisted in our back," said one of the reserve soldiers on Tuesday.

"Some of us left families with small children at home, academic studies, places of work, and we also left behind the strong political views that most of us have for one reason: to defend the life of the settlers here and protect the law and organization here," the reservist said.

"Instead, we must tolerate violent humiliation. At this rate, it's only a matter of time until we see physical violence toward soldiers and police again."

Once the violence had subsided, the reserve soldiers began receiving worried telephone calls from family members. "They called to make sure that we were ok as if we had spent the night in a battle with terrorists," said one of the soldiers.

"I guess they forgot that if the third Intifada were to break out tomorrow morning, we would be the first to be called into the area.

Related stories:

The security forces destroyed five structures, four fixed and one mobile, two of which were populated. Shortly after the demolition, extreme right-wing activists arrived at the nearby IDF post used by six reserve soldiers guarding the settlement, and destroyed a water tank, toilets, electricity cables and tents.

The activists also threw hundreds of rocks at the security forces, set fire to and slashed tires, and smashed windows of surrounding vehicles, including a bus driving policemen to the scene.

Hillel, a soldier currently completing his mandatory military service, lived in one of the homes destroyed by security forces. He told Ynet that he received the news that his home was no more in a telephone call from his brother.

"I didn't believe him, and now I'm still at my army base hoping that they'll let me go home. I need to find somewhere to stay for Shabbat and for the Passover Seder. They just decided to go and tear down homes, like, I think that this is in revenge. But I'm very, very disappointed that I'm here in the army taking my service seriously and in the meantime they're tearing down my house."

Hillel added that the destruction of his home is raising, "questions about the army. To continue or not. I feel like just leaving for home and never coming back here. I give and invest everything (in the army). I was even recognized for being an outstanding soldier last week. I know it's not personal, but they show up and destroy. I've given three years of my life for my country. Now I'm asking, why should I? They destroyed my home and I'm still here giving and investing."

"The vast majority of residents in Yitzhar are law abiding citizens and ordinary people. Some serve in combat units in the army, and there has never been a problem with them," said an officer from reserve battalion stationed there.

"It's just a shame that the vandalism in recent days receives backing, or at best loose condemnations from representatives of the communities. These settlers refuse to understand that these extremists, which turned to hundreds overnight, hurt them first and foremost."

"A friend of mine called me at 3 am to say that police were surrounding his home," said Eliyahu, a Yitzhar resident whose house was demolished Tuesday.

"I don't understand why I personally am being punished. After everything the Jewish people went through in the Holocaust, their grandchildren are now busy destroying the houses of other Jews."