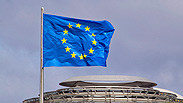 Photo: Reuters
Photo: Reuters
Palestinian ambassador to Russia Fayed Mustafa expressed the desire on Monday of the Palestinian government headed by President Mahmoud Abbas to seek deeper involvment from Russian and European Union diplomats in the Israeli - Palestinian peace talks which are currently in crisis under American mediation.

Mustafa's comments came at a press conference in Moscow where he called for a complete over-haul of the format of peace talks saying that the effort would be aided by greater involvment from the "quartet" of intermediaries including Russia and the EU.

"The settlement mechanism has proven ineffective and has to be revised. We need to include the 'quartet' of intermediaries, which has recently been overlooked, and take notice of Russian and European participation as members of the 'quartet'," Mustafa stated.

Related stories:

Last week saw the near-complete break-down of the current round of peace talks mediated by the US when Israel refused to accept the release of 26 Palestinian prisoners as part of the deal.

In frustrated retaliation, President Abbas "applied last week to 15 international treaties and conventions as an independent state," according to RIA Novosti.

RIA Novosti reported that, "Ambassador Mustafa said the 'parties need to draw relevant conclusions' from the talks with Israel, adding that US representatives helping to negotiate the Israeli-palestinian conflict have admitted behind closed doors that Israel has impeded the process."

Peace negotiations reach their deadline on April 29, though discussions are underway in an attempt to push back the deadline and save the talks.