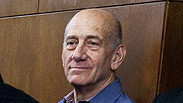 Photo: Tomer Applebaum
Photo: Tomer Applebaum
Former Prime Minister Ehud Olmert returned to police Fraud Squad headquarters on Tuesday morning, to answer questions about suspected obstruction of justice during an investigation into corruption.

Olmert was last week found guilty of accepting bribes to push ahead with the Holyland construction project during his stint as mayor of Jerusalem. The new accusations stem from evidence provided by his former bureau chief Shula Zaken as part of a plea bargain with the State Prosecutor's Office.

According to a recording handed over by Zaken, Olmert asked her to not to sign a plea bargain with the prosecution in the Holyland case.

Also investigated Monday morning in Lod was the lawyer of one of Olmert's ministers, Navot Tel Tzur. He is suspected of convincing Zaken to give up a problematic transaction with the prosecution.

Related stories:

On Sunday investigators confronted the former Prime Minister with recordings provided by Zaken in which he spoke to her about the trial saying, "It wasn't like that," or, "How can you say such a thing?"

Olmert tried explaining to investigators that, "this is my truth," and that he made no attempt to get Zaken to change her testimony.

"I didn't know I was being recorded," he said. "And if she was really under my influence and I had wanted to change things - I would have said to her to lie. But you can see that there isn't anything like that in these recordings."

Olmert claims that Zaken called Tel Tzur in hysterics in the middle of the Holyland trial.

"She told me that her lawyers were selling her out. She said that her lawyer was supposed to leave for a vacation with his wife and the District Attorney's family. It was her that told me this, and she said that she was afraid that they would sign a deal behind her back. So I told her - consult another lawyer."

Olmert says that it was she who decided to consult with Tel Tzur and came to his office with her lawyer.

The conviction of Olmert on charges of bribery as a result of the Holyland trial has actually led to opening a new investigation against him on suspicion of obstructing justice among other things.