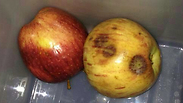 The State Comptroller's poverty report revealed that 894,000 Israelis, of them 306,000 children, go for as long as an entire day without food, or are forced cut down the size of their meals because they can't afford basic food products.

The grim report was released Monday and placed the blame on one main culprit - the Israeli government.

"A society that caters to the poorest and neediest not only improves its sense of dignity and rights - but also its image," said Comptroller Yosef Shapira.

"The heart breaks when you read about a family with children whose refrigerator is empty, or about a family who hasn't bought fruits and vegetables because of financial difficulties. The responsibility for the lack of food security falls on the government that left the treatment of this problem in the hands of charity organizations. Poverty is not the result of fate."

Lack of food security is defined as the inability to consume food regularly in order to acquire all the nutrients required for healthy development.

Related stories:

Although low food security is not considered a life-threatening condition, it can have negative affects on mental and physical health. Therefore it is considered to perpetuate a cycle of poverty.

Shapiro's report revealed extreme incompetence by the state in relation to dealing with food security. The report states that the State of Israel has shown very little commitment to dealing with the issue, failing to form a comprehensive policy to deal with or allocate the needed resources, instead leaving charities to deal with the problem.

In 2009 it was decided to create an administration to address the issue, but it was delayed before it began and the funds it eventually received were only 12.5% of what had been initially promised.

The result, explained the comptroller, was a situation in which the government left non-profit organizations to distribute aid packages to the needy. The aid offered by these organizations, such as the food packages for Passover, was only a symbolic, one-time solution, Shapiro claimed.

As such, non-profits have a free-hand in decided in which areas to work and don't supply aide according to any clear criteria - therefore a situation is created in which some of those in poor neighborhoods don't receive any aide at all.

The most obvious example given by the Comptroller is the Arab minority. Many Arab Israelis suffer from a lack of food security but are not present in the fight to get food aide from non-profits.

The Comptroller backed up the report with stories of severe poverty, like that of a family of five who have not bought fruit or vegetables at all over the last two years, subsisting off of cabbage and potatoes due to financial difficulties.

The report also told the story of a single mother of 4 children from Nazareth Illit whose refrigerator was regularly empty and whose children often go to eat at a friend's house.
Food politics
According to the report, the Welfare Ministry began allocating financial assistance to aid organizations on an annual basis only after 2012, when the sum of aid needed was over NIS 14 million. Aid requirements have since dropped to seven million.

"The promise by Finance Minister Yair Lapid a year ago to set aside NIS 200 million for food assistance has not yet begun, despite the commitment made by Welfare Minister Meir Cohen to begin doing so on the first of April 2014, just before the Passover holiday," explained Eran Weintraub, head of the charity organization LaTet.

"Unfortunately because of food security, we can't celebrate," he added

Rabbi Yechiel Eckstein, President of the International Fellowship of Christians and Jews, added," Lack of food security is the worst realization of the problem of worsening poverty. It's time to take action that will allow hundreds of thousands of hungry people who can't wait through long bureaucratic processes to live in honor."

Welfare Minister Meir Cohen pointed out that the report deals with the period before the current government. "We transferred NIS 230 million for the issue of food security, double what the previous government promised," he said.

"We extended food funding for schools by NIS 120 million nis and more than 70,000 students will receive a hot meal. We placed food security as part of our central goals."

In response to the report, the Finance Minister's office said in a statement: "The Finance Minister and Welfare Minister have allocated NIS 230 million to begin a food security program. Within this program NIS 110 million are set aside to increase the number of students receiving hot meals at school, NIS 60 million to help aid organizations, and NIS 60 million to feed Holocaust survivors and people with disabilities.