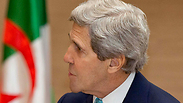 US Secretary of State John Kerry
Photo: Reuters
WASHINGTON – US Secretary of State John Kerry commented on the crisis in peace talks, citing the delay in the release of Palestinian prisoners and the announcement of East Jerusalem settlement construction tenders as carrying the onus for its outbreak.

Speaking in a hearing before the Senate Foreign Relations Committee on Tuesday, Kerry said: "The prisoners were not released by Israel on the day they were supposed to be released and then another day passed and another day – and then 700 units were approved in Jerusalem and then poof…"

US Secretary of State John Kerry speaks at Senate Foreign Relations Committee (רויטרס)

Economy Minister Naftali Bennett slammed the comments, saying: "For years there was an attempt to block construction in Jerusalem by blasts and explosions, but it didn't happen. Construction in Jerusalem is not a 'poof', it is Zionism and we will never apologize for it."

State Department spokeswoman Jen Psaki attempted to play down the comments, saying via Twitter that Kerry "was crystal clear today that both sides have taken unhelpful steps and at no point has he engaged in a blame game."

Under the terms of renewed talks, Israel had promised to release 104 long-held Palestinian prisoners in four groups, while the Palestinians said they would suspend a campaign to sign up the "state of Palestine" for various UN agencies.

But as the talks stalled last month, Israel failed to release the fourth group of prisoners on time, and the Palestinians then signed letters of accession for 15 international conventions.

Related stories:

Kerry further said that the United States backs Israel's demand for recognition as a Jewish State: "The government of the United States and the president supports the notion of Israel being defined as a Jewish state. We believe that that should happen. But when it happens, and how it happens, has to be part of the negotiations. It's not going to happen in the beginning."

Kerry added that as of now, the dispute is over the process of the negotiations, and "not over the substance of the final status agreement. It's over how do you get to the discussion of the final status agreement. So our hope is that we can work a way through this but in the end the parties are going to have to make that decision. It's not our decision.

Hinting that American efforts are limited, the Secretary of State said: "you know, we can cajole, we can leverage, we can offer one thing or another to try to be helpful, they have to make the fundamental decision.

Kerry added that "both leaders have made courageous and important decisions up until now," and that for Netanyahu, releasing prisoners is a "painful, difficult political step to take – enormously hard." He continued in saying that "the people of Israel have been incredibly supportive and patient in giving him the space to be able to do that, in exchange for the deal being kept of the release of prisoners and not going to the UN"

Kerry further said that he intends to continue to fulfill his role as a broker as long as both sides desire to continue the negotiations. "I read about some who question why the secretary of state is engaged if the parties don't want to do it. The parties do want to do it and are talking to each other to go over this hurdle."

Kerry noted that the issue of the Israeli-Palestinian negotiations comes up frequently in his meetings, saying that whether at NATO meetings, G7, or the Vatican, worldwide leaders are raising questions as to whether there is a chance for peace in the Middle East. "Everywhere, it has an impact," he said.

Earlier Tuesday, Foreign Minister Avigdor Lieberman said that a planned Palestinian prisoner release will not happen as long as Palestinians pursue their bid to join UN agencies.

Lieberman accused the Palestinians of breaking the terms of the US-brokered peace talks, and the Palestinians should "pay a price" for this. Lieberman described the Palestinian move as highly "provocative."

Meanwhile, Israeli and Palestinian negotiators met for a second time in two days Monday night, as US mediation efforts to stop prevent the collapse of ongoing peace talks showed little signs of progress.

Israeli negotiator Tzipi Livni and her Palestinian counterpart Saeb Erekat held a "serious and constructive" meeting with US special envoy Martin Indyk on Sunday night "to discuss ways to overcome the crisis in the talks" and met again on Monday, U.S. State Department spokeswoman Jen Psaki told reporters.

"Gaps remain but both sides are committed to narrow the gaps," she said of Monday's meeting.