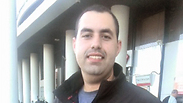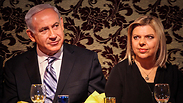 The Netanyahus
Photo: Avishag Shaar-Yashuv
Guy Eliyahu (27), a former Prime Minister's Office maintenance worker, is suing the Prime Minister's Office and the contractor who hired him for NIS 500,000, accusing them of violating his rights as worker and humiliating him.
Eliyahu told Channel 2 of the treatment he suffered as part of the prime minister's wife, Sara Netanyahu's "tempter tantrums".
Eliyahu, who worked at the official residence between 2011-2012, claims that the prime minister's wife "hassled" him, and claimed that she required him to do redundant tasks, and tended to lash out at him: "For example, when he would serve Mrs. Netanyahu food that she requested and she changed her mind, she would accuse the plaintiff of making her fat," the lawsuit read.
Related stories:
The suit further stated that "the prosecutor had been forced, after long and exhausting days of work, to wait aimlessly at the prime minister's residence until the couple would go up to bed, in order to give the two a good night blessing. More than once, the prosecutor received calls home after midnight, and was ordered back to the Prime Minister's residence to tell them good night, or to heat a bowl of soup." It was further claimed that the Netanyahus were not concerned by the fact that their employee was forced to occasionally work 19 hours a day.
"Beyond the unreasonable work hours, the work environment at the Prime minister's residence created abusive employment conditions that are unthinkable," the suit claimed and detailed "clean-up drills accompanied by shouts."
According to the suit, "words of abuse and insults were routine at the prime minister's residence, and inspired fear among the workers."
"Sara Netanyahu imitated me"
The lawsuit further claimed that "frequently, minor incidents evolved into severe outbursts of rage that could even end harshly, as did an incident in which dishes that were not put in their proper place were thrown onto the floor, in front of the workers' disbelieving eyes."
The suit argues that "although as a maintenance worker Eliyahu was not required to do such things, he was given flack due to the fact that his skills as a waiter were not to Mrs. Netanyahu's liking. The prime minister's wife said that Mr. Eliyahu was not 'elegant' enough, and he was later informed that she used to mimic him (in an insulting manner) in front of other employees."
Affiliates of the Netanyahu family slammed the report, saying it was part of a long and systematic campaign against the couple, in a bid to cause political damage to the prime minister.