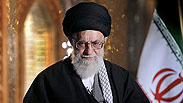 No concessions. Ayatollah Khamenei.
Photo: AFP
DUBAI - Iran should continue talks with world powers to end a long-running nuclear dispute, but without ceding any of the gains made by its nuclear program, the Islamic Republic's Supreme Leader was reported as saying on Wednesday.

Iran's negotiators should not yield to issues "forced upon them," Ayatollah Ali Khamenei said in remarks to nuclear scientists in Tehran, the official IRNA news agency reported.

He added that Washington knew well that the Islamic Republic was not seeking a nuclear weapon.

Related stories:

"These negotiations should continue ... but all should know that negotiations will not stop or slow down any of Iran's activities in nuclear research and development," he was quoted as saying.

Iran had agreed to negotiate an end to the dispute "to break the hostile climate created by the arrogant powers against Iran," he added, using a term Iran's leadership normally employs to refer to the United States and its Western allies.

Khamenei spoke as negotiators from Iran and the so-called P5+1 - the United States, Russia, China, Britain, France and Germany - met for the second of two days of talks in Vienna aimed at clearing the way for a long-term accord on curbing Tehran's nuclear program.

Iran, which denies accusations its nuclear program is intended to obtain nuclear weapons capability, wants an end to sanctions and to regain what it sees as its rightful place as a leading regional power.