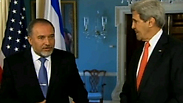 US Secretary of State John Kerry
Photo: Reuters
US Secretary of State John Kerry met with his Israeli counterpart Foreign Minister Avigodor Lieberman Wednesday amid a crisis in peace talks. The two held a joint press conference and reaffirmed their commitment to both the talks and US-Israel relations.
Meanwhile, the negotiation teams for Israel and the Palestinian will meet Thursday in Jerusalem after the Arab League authorized the Palestinians to continue peace talks. The meeting will be held under the mediation of Special US Envoy Martin Indyk,
The meeting between Kerry and Lieberman took place on the backdrop of the political fallout of what has been called the 'poof speech,' in which Kerry placed the onus of the crisis in peace talks on Israel.
Speaking in a hearing before the Senate Foreign Relations Committee on Tuesday, Kerry was asked about stalemate in US-brokered peace talks, and said: "The prisoners were not released by Israel on the day they were supposed to be released and then another day passed and another day – and then 700 units were approved in Jerusalem and then poof…"
The comments caused a furor, and on Wednesday a senior source within Prime Minister Netanyahu's office spoke with the New York Times and said Kerry's comments "will both hurt the negotiations and harden Palestinian positions."
After the meeting, Kerry said "Obviously, we are working hard to try to find a way forward. And both parties indicate they would like to find a way to go forward in the talks. We obviously want to see that happen."
Kerry also noted that he and Lieberman would discuess Iran and Syria, and went on to affirm the relations between the two nations "Our relationship with Israel, as everybody knows, is an historic and deep one. We remain totally committed to the security of Israel."
Despite tensions, Leiberman praised Kerry and his peace efforts, and said Israel has proved its willingness to make peace.
"I would like to express my appreciation for your efforts, for your commitment to our state, your efforts to resolve our long dispute with the Palestinians. We know and everybody in Israel knows that you are really a very close friend, reliable friend, and now we're in the midst of a very crucial process... you and us have the same desire to achieve comprehensive solution, to achieve final status agreement. We're ready to sacrifice a lot for this goal."
Serious predicament
The Arab League called on the US Wednesday to keep up efforts to salvage Middle East peace talks that are on the brink of collapse, blaming Israel for a crisis that has led Washington to evaluate its role in the negotiations.

At a meeting of Arab foreign ministers in Cairo, the Arab League said Israel was responsible for the "serious predicament" facing the negotiations, citing its failure to release about two dozen Palestinian prisoners as one of the major causes.

"(The ministers) called on America to continue its efforts for the resumption of the negotiation track that obliges Israel to implement its commitments ... according to the agreed time frame," a League statement said.

The US-brokered negotiations plunged into crisis last week after Israel, demanding a Palestinian commitment to continue talking after the end of the month, failed to carry out the promised release of about two dozen Palestinian prisoners.

Palestinian President Mahmoud Abbas responded by signing 15 global treaties, including the Geneva Conventions on the conduct of war and occupations, on behalf of the State of Palestine, a defiant move that surprised Washington and angered Israel.

US Secretary of State John Kerry, who had hoped to reach a peace deal by April 29, said on Friday that Washington was evaluating whether it was worth continuing its role in the Middle East talks, saying it was "not an open-ended effort".

Israel announced on Wednesday a partial freeze in high-level contacts with the Palestinians in retaliation for their signing international conventions it contends they are not entitled to endorse before formal establishment of a state.

Underscoring the Palestinians' main concern - economic measures imposed by Israel - the Arab League said Arab states must meet their financial commitments to the Palestinian Authority "to provide an Arab financial safety net".

Under interim peace deals, Israel collects and transfers to the PA some $100 million a month in taxes on goods imported into the Palestinian territories. Israel has previously frozen the payments during times of heightened tensions.

Though Israel did not mention such measures on Wednesday, Palestinian Foreign Minister Riyad al-Malki said the Israeli government had "indicated" this morning it would withhold the revenues. He did not say how that message had been delivered.

"We are committed as Palestinians and Arabs to the negotiation process and the April 29 date and continuing to deal with the efforts that the American administration and John Kerry are making to find a way out of this crisis," he said.