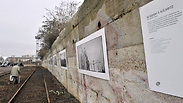 Memorial for deported Jews at SNCF railway station outside Paris
Photo: AP
The Obama administration on Wednesday warned several state legislatures against initiatives that would punish the state-owned French railway company SNCF for carrying out Holocaust-era deportations to Nazi death and labor camps.

The State Department said such actions would jeopardize recently begun talks between the United States and France on compensation for SNCF deportation victims and their families.

All about the Money?

State-owned SNCF apologizes for first time for deporting thousands of Jews to Nazi camps. Company hopes statement will pave its way to deals worth tens of billions of dollars in US.

Department spokeswoman Jen Psaki said the United States and France hoped to conclude their discussions as quickly as possible and that initiatives in Maryland and New York threatened a speedy resolution of the talks that began last month.

"Recent initiatives of certain state legislatures, such as New York and Maryland, have begun to pose a serious obstacle to achieving this goal," she said in a statement. "We strongly urge all concerned to avoid actions that undermine the ongoing compensation talks. The current American-French dialogue, in our view, represents the best means of reaching an agreement that will meet the concerns expressed by lawmakers in these states."

Psaki said the third round of negotiations between the US and France was to take place April 10. "Both sides are proceeding earnestly and in good faith," she said.

The bill in Maryland, which would have barred SNCF from bidding on the $2.2 billion Purple Line light-rail project until it pays compensation to the deportation victims and their families, stalled in the General Assembly earlier this week. In 2010, the state passed a bill requiring SNCF to disclose its role in transporting Holocaust victims before it could bid on Maryland projects.

SNCF transported about 76,000 French Jews to Nazi concentration camps, though experts and advocates have debated the company's level of guilt.

SNCF has argued that it had no effective control over operations when France was under Nazi occupation.

Nevertheless, the company has acknowledged guilt in France and paid out more than $6 billion in reparations. But these only apply to French citizens and certain deportees.