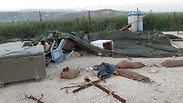 IDF tent destroyed by settlers
Photo: IDF Spokesman
Police have arrested five men, including two teens, on Wednesday night in connection to an attack on a military post near Yitzhar settlement earlier in the week. Rampaging settlers attacked an IDF post used to house reservists guarding Yitzhar, ripping down their tents, severing power cables and destroying their water supplies, following the demolition of illegal structures near the settlement.
The five men, including a 16-year-old and an 18-year-old, were detained by military police working in cooperation with the Border Police, and will face further questioning.
Related stories:
Three other suspects were taken into custody Wednesday, including a teen who is accused of throwing rocks at police forces patrolling the settlement Tuesday night. Police say that further arrests are expected.
Israel's political and defense establishment have condemned the attack, with Defense Minister Moshe Ya'alon vowing that attacks on the military would not go unanswered. President Shimon Peres also urged steps to counter what he called divisive activity within the country.
"The damage this causes to the security of Israel is indescribable and I urge everyone to preserve unity and show responsibility," Peres said. We will not let this little disturbance become a maggot eating away at Israel's security."
Against the background of strong responses to the attack, a special meeting was held Wednesday in the Attorney General's office, attended by State Prosecutor and security officials. During the meeting, issues related to security measures were raised, including the reinforcement of security forces in the area, coordination of activities between the different military arms, joint planning of operations, allocation of resources and further steps to combat violence in the area. Officials said after the meeting that this was the first in a series of discussions on the issue.
On Tuesday, the IDF imposed a rare sanction against the settlers, when officers from the Judea and Samaria Division informed the Samaria Regional Council of the cancellation of the upcoming annual pilgrimage to the ruins of the Homesh settlement in the northern West Bank. IDF sources clarified that the decision is not directly related to the violent incident in Yitzhar, but rather in light of repeated disruptions of order by radical right-wing activists who have been recently making illegal visits to Homesh.
Homesh was one of four West Bank settlements evacuated by Israel in 2005, as part of former Prime Minister Ariel Sharon's disengagement from Gaza.