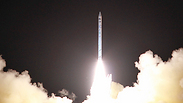 Ofek launch
Photo: Ministry of Defense and Israel Aerospace Industry
Israel's defense establishment was radiating satisfaction Thursday after the successful night launch of its new spy satellite, the Ofek 10, which experts say will allow for closer observation of Iranian covert activity.

"Dozens of engineers were sitting at their screens last night to follow the satellite and be in contact with it," Ofer Doron, CEO of the Israel Aerospace Industry's space division, said Thursday.

"An hour and a half after its launch, it passed over our ground station and made contact. We will see it a few more times today, and we conducts checks in the coming months before we can declare it operational and broadcast the first images."

The Ofek 10 (Ofek is Hebrew for Horizon) is the latest in a series of spy satellites launched by Israel in recent years to transmit data gathered using multiple methods, including optical imaging involving highly sensitive cameras and radar, says Ynet military and defense analyst Ron Ben-Yishai.

The satellite is a significant step up in Israel's ability to accurately monitor a target area, even in poor weather. For example, if the Iranians try to disguise certain activity, such as placing missiles in their launchers, Israel will now be able to identify that activity in half the time.

Israeli officials have said before that the nation's satellite program is aimed at boosting intelligence-gathering capabilities in the face of Iran's nuclear program and Iranian support for militant groups in neighboring Arab countries.

IAI said Thursday that the satellite, which cost hundreds of millions of shekels, will orbit at an altitude of 400-600 km above the Earth, circumnavigating the planet, in an elliptical orbit, every 90 minutes.

The satellite weighs 380 pounds and is considered small relative to the "high definition images it will provide, which will offer the highest level of intelligence."