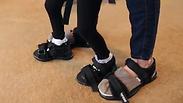 The Firefly Upsee. Helps kids achieve repetitive walking training with the support of an adult
VIDEO – An Israeli mom from Jerusalem who developed a special harness to help her child walk on his feet has launched her invention in the international market.

Debby Elnatan, whose son Rotem suffers from cerebral palsy and is wheelchair bound, invented a device known as the Firefly Upsee, to help him walk. Elnatan, a music therapist, developed a support harness that enabled Rotem to stand upright, and by attaching the harness to herself, it allowed Rotem to take steps together with his mom. The product even allows physically impaired children like Rotem to dance.

"When my son was two-years-old, I was told by medical professional that he didn't know what his legs were and had no consciousness of them," Elnatan said in a press release.

Technomedics

New device developed by Tyto company can perform almost complete checkup of body and send results to physician, who will be able to make prognosis without meeting patient. Marketing of device, which is expected to cost $200, to begin next year.

"That was an incredibly difficult thing for a mother to hear. I started to walk him day after day, which was a very strenuous task for both of us. I said there had to be a better way. Out of my pain and desperation came the idea for the Upsee, and I'm delighted to see it come to fruition."

Elnatan selected the Lecky company in Lisburn, Northern Ireland to manufacture the product for the global market. Lecky has had 30 years of experience making equipment for children with special needs. After two years of planning with a team of designers, textile experts, therapists, and engineers at Leckey, Elnatan's invention was launched this past Monday, March 24. It also underwent successful trials with families in the United States, Canada and United Kingdom beforehand.

"It is wonderful to see this product available to families across the world," said Elnatan, who was at the official unveiling at the Lecky factory in Lisburn, according to a report in the Daily Mail.
Giving children a better childhood
One of the first families in the UK to use the Upsee product was the McCrystal family from Draperstown in Northern Ireland. Maura McCrystal, mother of five-year-old Jack described what it was like to see her son Jack playing soccer with his family for the first time.

"Last Sunday was a significant one for us as a family as it was the first time our son Jack was able to play football in the back garden with his dad, his brothers and our little dog Milly. To see Jack playing like any other 5-year-old boy made me very emotional," said McCrystal.

The Firefly Upsee, which costs nearly $500 and is available for purchase from April, enables infants and small children to stand and achieve repetitive walking training with the support of an adult. The system includes a harness for the child that is attached to the system's adult belt. Both the adult and child wear specially-engineered sandals, which allows the parent and child to step simultaneously and leaves their hands free for play and other tasks.

Firefly's Clinical Research Manager and occupational therapist, Clare Canale, said the product could help families across the globe. "Short-term, the Upsee improves special needs family participation and quality of life, while research suggests it has the potential to help with physical and emotional development in the longer term."

"My hope is that (the Upsee) will be used all over the world to give children a better childhood," said Elnatan.

Reprinted with permission from the Tazpit News Agency