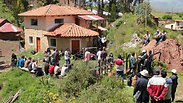 Eran and Adi (not their real names), two of the Israeli tourists who were arrested two weeks ago for vandalism and use of illegal drugs and alcohol at an out-of-control party at a Peruvian site, have been released without charge.

The two Israelis told of the harsh conditions they faced during their detainment. "They put six men in one cell, a two-by-two meter room, without mattresses, blankets and a shower, for 12 days. They didn't even once bring us water or food. The toilets were a hole in the floor and there was no toilet paper. And after that, we were told that we are innocent of the charges brought against us and that we are released. All that we had endured was unnecessary."

Related stories:

Most of the Israeli tourists who participated in the party – some 60 young men and women – were released from custody a few hours later, while the seven others were left behind bars for a longer period of time: Four of them were detained for five days, and three others were held in custody for 12 days. All involved in the incident were eventually released, after the charges against them were dropped.

Eran and Adi, both 23 years old from northern Israel, were among the last three people held in custody, and on Thursday, they returned to Israel. Like most of the Israelis who stayed at Cuzco from the 23-24 of March, they also attended the party that a local Peruvian organized on his farm.

"It wasn't an archeological site as the media reported," Eran explained. "The farm is a kilometer away from a statue of Jesus, and with regards to the other ruins that were discussed – they were found under his (farm owner) house, and no Israeli had gone near the area or was even aware of their existence. While the possession of the drugs found at the area was initially attributed to us, they actually belonged to the farm owner. It was reported that there was a sex party, because the police found condoms in peoples' bags and assumed that orgies had taken place," Eran said.

The farm owner was DJing at the party, and when the police arrived, he shut down his computer and ran with it to a bedroom inside the house. When the officers pulled him out of the bedroom, he said that he had nothing to do with the party, and that he was just renting out the house. When he was questioned about who organized the event and was put in front of a line-up, he pointed at me because he remembered that I came before the party to check the place out. The officers arrested Adi because they assumed that if he's my friend, he's probably also involved in the organization of the party.
Six men, two rats, one cell
According to Eran and Adi, after their arrest they felt lost and did not at all understand what they were suspected of doing. No legal assistance was offered to them at first, and they were not allowed to contact a lawyer. They were taken into custody, and put in a small, completely bare cell, that was reeking of urine, and only when Beit Chabad intervened two days later, were they given permission to contact a lawyer.

The two Israeli tourists spent the first eight days of their detainment at Peru's tourism police station, and were then transferred to the drug enforcement station.

"During those eight days, no one talked to us, questioned us or let us tell our side of the story," Eran continued. "They put us in one room, five Israelis and a Peruvian. We got mattresses two days later from Beit Chabad. The police officers gave us one scabias blanket (military issued wool blankets) for six people. The cells were next to the station's entrance and the door was constantly open and there were drafts of air coming at us. We didn't exactly get any sleep there."

Adi: "It was a very difficult experience. Officers would come in at night and taunt us while we tried to fall asleep, they would laugh at us and leave the light on. Two rats visited us there as well."

Eran: "The State of Israel did nothing for us except vilify us in the media. No embassy representatives expressed interest or asked questions. A letter was sent from the embassy ten days after the Foreign Ministry strike ended, but I don't even know what it said. We're also mad at the Israeli media, for covering what happened in an insensitive manner."

The Foreign Ministry responded to the tourists' claims: "The allegations are baseless. The Foreign Ministry was in contact with the families and gave proper consular treatment. The State of Israel does not get involved in judicial proceedings of other states. Israeli travelers must understand that the Foreign Ministry is not an insurance company or a law firm that can be used for their personal use. They must take extra care in following the laws and traditions of the country they are visiting, and avoid confrontation with law enforcement. Those who find themselves entangled with the local authorities must take responsibility for their actions, and make use of the services of a local lawyer as is customary, instead of knocking on the embassy's doors. Childish, whining behavior is not an alternative to responsible and proper behavior."