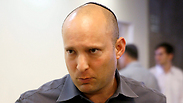 Bayit Yehudi Chairman Naftali Bennett
Photo: EPA
Bayit Yehudi Chairman Naftali Bennett announced his party will exit the coalition if Israel decides to free Palestinian prisoners, namely a group of Israeli-Arab terrorists jailed from before the 1993 Oslo Accords, as part of attempts to salvage peace talks.
"If any proposal freeing Israeli murderers is put before the government, the Bayit Yehudi will object, and if it will pass – the Bayit Yehudi will leave the government which frees murderers with Israeli citizenship. Enough is enough," Bennett said.
Related stories:
The comments came amid a report by Al Arabiya that Israel and the Palestinians have reached an agreement to overcome the crisis currently threatening to derail US-brokered peace talks. Nonetheless, all three parties have since downplayed the report as premature, but the US did say "gaps were narrowing" in talks.
"I hope to see Pollard freed from prison soon," Bennett said, "but not through immoral deals like the one currently being proposed."
Responding to the reports, Bennett said his party would leave the coalition should Prime Minister Netanyahu succeed in passing any deal including the release of Israeli-Arabs to a vote.
"The deal currently coming to together, if it will include muderers with Israeli citizenship is an affront to Israeli sovereignty," Bennett said, adding that "to add insult to injury – (the deal is) done while the Palestinian have yet to withdraw their requests to join international organizations."
The US-brokered negotiations plunged into crisis two weeks ago after Israel, demanding a Palestinian commitment to continue talking after the end of the month, failed to carry out the promised release the final group of about two dozen senior Palestinian prisoners jailed from the time prior to the 1993 Oslo Accords.
Abbas responded by signing 15 treaties, including the Geneva Conventions on the conduct of war and occupations, on behalf of the State of Palestine, a defiant move that surprised Washington and angered Israel which claimed it breached the Palestinian initial promise to halt attempts to gain international recognition.
Regarding the Palestinian move, Bennett said: "Israel is facing a new situation in recent days in wake of the Palestinians petition to the UN, which is a vulgar infringement of all agreement (made with Israel) since the Oslo Accords."