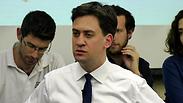 No illusions about Iran, Miliband.
Photo: Hebrew University in Jerusalem
"Dialogue and negotiations" are the key to overcoming both the Israeli-Palestinian crisis and the Iranian nuclear threat, British opposition leader Ed Miliband told students at the Hebrew University on Thursday.

"I don't see any good outcome which doesn't involve that kind of negotiation. We never rule out any options, but I've got to say to you that all of our efforts must be focused on that outcome," he said, expressing his support of the ongoing talks with Iran and the international sanctions that brought Tehran to the table.

But while Miliband believes the way forward is reaching a lasting agreement with the Islamic Republic to curb its nuclear program, he stressed Britain was "under no illusions about the Iranian regime."

Related stories:

"Everybody is absolutely clear and understands the deep concern there is in Israel about what the Iranian government has said about Israel and about its intentions. It isn't just Israel's concern; it isn't just a regional concern; it's a very significant global concern," he noted.

In his first public appearance in Israel since being elected opposition leader, Miliband, who is Jewish, recounted his first visit to the country at the age of seven.

"The image in my mind from 37 years ago is of going to visit my grandmother's house and seeing a photograph of somebody, and asking who it was, and my grandmother was very upset. I was taken out of the room and I was explained that it was my grandfather who was killed in the (extermination) camps," he said.

His mother is a Polish Jew who survived the Holocaust thanks to being protected by Poles, while his father, of Polish-Jewish origins, fled with his parents to England during World War II.

"I come here very conscious of my family's history, and also with a deep sense of gratitude to Israel, which was a sanctuary for (my grandmother) from the most indescribable grief," he added.

In addition to meeting with Israeli and Palestinian leaders, Miliband was also scheduled to visit the Yad Vashem museum in Jerusalem to learn more about the Holocaust and the anti-Semitism that led to the murder of 6 million Jews.

Touching on the topic of anti-Semitism during his Q&A session at the Hebrew University, Miliband noted the British Labour party was "very vigilant" about the existence of anti-Semitism or any other form of discrimination within the party.

"You don't have the family history that I have or that so many people in this country have, without feeling that when prejudice and anti-Semitism come to the fore, it raises a whole set of deep anxieties and concerns about where it might lead," he said.