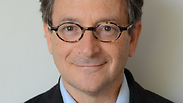 Dr. Ron Pundak, one important architect of the 1993 Oslo Accords, passed away Friday at age 59 from complications with a serious illness.

Pundak spent much of his life supporting peace between Israel and Palestine and played an important role in developing the secret channels of connection that would eventually lead to the Oslo Accords which created the "Palestinian Authority" and saw both sides declaring formal recognition of negotiation partners.

Between 2001 to 2012 Pundak was the executive director of the "Peres Center for Peace" in Tel Aviv.

In his youth, Pundak served in the IDF's Intelligence branch after which he pursued studies in Middle Eastern Political History. He completed his doctorate in the subject at the University of London at the school of Middle East and African studies.

Upon returning to Israel, Pundak worked as a journalist at "Haaretz" newspaper for a year and then decided to go from a simple surveyor of events to someone who could change reality.

In Pundak's book "Secret Channel - Oslo, the Full Story", which was published in 2013, he spoke of his days as a mediator.

"After many meetings with the Palestinian leadership in the West Bank, I understood that the only way to push forward the political process was direct dialogue with the Palestinian Liberation Organization (PLO)," wrote Pundak.

"That was at the end of 1992 and up until that point, the government had been negotiating in Washington with a delegation from the West that had no authority."

"That's what drove Dr. Yair Hirschfeld and myself to open the covert channel in Oslo which was in full coordination with Yossi Beilin who was Deputy Foreign Minister at the time. The Foreign Minister Shimon Peres still had no idea."

Related stories:

In an article for "Yedioth Ahronoth" last year Pundak explained that once Hirschfeld had been convinced that the secret contact with the PLO was serious and trustworthy, he updated the Foreign Minister Peres.

"Peres choose not to immediately inform the Prime Minister Yitzhak Rabin and only did once he reached the conclusion himself that the contact could potentially lead to an agreement," said Pundak.

"From that instant, Rabin and Peres managed and directed communications through us. This continued until the middle of '93 when Hirschfel and I together with three PLO representatives formulated the first copy of the agreement."

Pundak remained confident and justified in this path throughout the whole process.

"Even Netenyahu, who followed the symbolic coffin of Israel's right-wing demonstrations understood that Oslo was the only solution," said Pundak in 2013.

"At least in words, he went much further than Rabin was willing to go and spoke of two countries for two nations. Oslo is a familiar concept in two national entities. If we accept this idea then peace will come eventually, by dividing the Land of Israel."

In the years following the Oslo Accords, Pundak continued to work for a peace deal. He led several other dialogues with Palestinian contacts and worked or the Geneva Initiative.

After his 11 years as executive director of the "Peres Center for Peace", Pundak was appointed chairman of the Israeli Peace NGO Forum.

President Shimon Peres noted in his public eulogy that, "Ron Pundak was a warrior for peace until his last breath - a man of principles - an intellectual in his perception. He dedicated his entire adult life in the effort to achieve peace between us and our neighbors," said Peres.

"He was ready to do anything for the cause of peace - even to sacrifice every moment of his life in dedication. When it came to peace, he didn't know how to quit."

"He pursued justice and made peace. He wasn't just trustworthy, but also passionate about his faith and peace always burned like fire within him," said Peres.

Peres continued, "He was enthusiastic and knew how to excite others, he was turbulent and new how to agitate others, and he was devoted and knew how to inspire devotion in others."

"It's difficult to imagine dialogue between us and our neighbors the Palestinians without his constant contribution. He was satisfied with the path he chose even when that path was full of obstacles."

"He never became desperate in the face of difficult situations, even when faced with the disease that ailed him. He didn't quite, he wasn't submissive, and he didn't lose hope. He was taken before his time, and he was aware of the health threat that hung over his head, but that did not stop him in his constant beliefs. Ron was the salt of the Earth, a great soul, and a family man. He will be missed by all," Said Peres.

Labor party leader and MK Yitzhak Herzog said,"A dear friend has passed on today. Ron was an Israeli patriot. He became a pioneer when he understood that there could not exist a Jewish nation without two nations living in peace side by side."

"Ron, who will be deeply mourned, will go down in history as one of the architects of the Oslo Accords and in a large part due to him the two state solution became the only possible way forward," said Herzog.

Justice Minister Tzipi Livni said, "There are war heroes, but Ron was a peace hero. He was a Zionist who believed in peace and fought for it till his last days. He asked to contribute and fight to achieve peace and he was undeterred by radicals, cynics, and desperate people. His memory will be blessed."

Former Prime Minister Ehud Olmert also eulogized Pundak saying, "Ron was a pioneer. When he started the Oslo process I though that he was wrong. I'm happy that I able to tell him while he was living that he was so often belonged to a small minority with his beliefs, but he was right."

"For us who opposed his ideas, myself included - we were wrong. Of all the Israelis that I met, he was the most realistic about the vision for peace and the bravery inside all of us. He had the time to see the fruit of his actions, but history written by others will exaggerate his part when peace comes," said Olmert."

Director General of the Geneva Initiative Gadi Baltiansky, honored his memory saying, "I'm hurt at the death of an incorruptible friend and man of values and honesty who was one of the heads and senior commanders of the peace camp."

"Ron believed, spoke, and acted in service of his country, his nation, and his contributions will remain with us and guide us for many years," said Baltiansky.

The Environmental Protection Minister Amir Peretz stated," I sympathize with the family. Ron Pundak was the central power of the peace camp and believed in direct dialogue and acted with courage for its actualization. I hope that the cornerstones that Pudak laid down will become a solid foundation for a peace deal with the Palestinians. That was Pundak's hope and that is now all of Israel's hope."