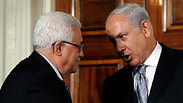 Escalating the situation.
Photo: Reuters
There is "no chance" to reach an agreement that would end the impasse in peace talks in the coming weeks, Israeli officials told Channel 10 on Friday.

US mediator Martin Indyk has returned to the United States for Passover and will only return next week, the officials said.

In addition to that, the Israeli decision to cut ties with the Palestinian Authority and withhold its tax revenues in retaliation for the Palestinians' recognition campaign with international bodies will make it even more difficult to bridge the gaps in the near future, the sources said.

Related stories:

The two sides have held several lengthy meetings over the past week in an attempt to veer talks back to normalcy after Israel postponed the release of the final group of Palestinian prisoners, saying it was conditioned on progress in peace negotiations.

Israel's move was answered by the Palestinians' campaign to join international treaties and conventions and the two sides have since continued escalating the situation by countering each other's actions and exchanging blows in the media.

The crisis in talks has been further complicated by a threat made by coalition partner Naftali Bennet and his Bayit Yehudi party to quit the government should Israel agree to release the prisoners, particularly 14 Israeli Arab prisoners.

Earlier this week, Prime Minister Netanyahu cautioned his ministers of leaving the coalition, saying if they do so, a scenario in which Labor leader Isaac Herzog, Yesh Atid leader Yair Lapid and the haredi parties form a coalition together was possible.

The Palestinians, on their part, remain intransigent, refusing to concede on any of the demands they recently set to the continuation of peace talks beyond the April 29 deadline and rejecting any deal offered to them by Israel and the US.