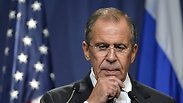 Russian Foreign Ministry Lavrov. Worried.
Photo: AP
The Russian Foreign Ministry issued a travel warning Friday in which it "warmly recommended" Russian citizens not to go abroad, especially to countries that have extradition treaties with the United States - like Israel - out of fear "authorities will set demands" to them.

The announcement linked the travel warning to concerns of the sanctions Washington imposed on Russian individuals and institutions in retaliation for Moscow's annexation of Crimea from Ukraine - even though these sanctions do not apply to ordinary citizens.

Despite that, the announcement posted on the Russian Foreign Ministry's website said that the American administration was trying to create a routine of persecution of Russian citizens in third-party countries so the latter would extradite these citizens to the United States, "including over dubious allegations."

Related stories:

The foreign ministry also warned that citizens who are arrested abroad will be trialed according to "American standards" and are expected to receive long sentences.

The travel warning came after the US Treasury Department on Friday issued sanctions against seven Crimean separatists and a Crimea-based gas company for undermining the government in Kiev. Treasury Secretary Jake Lew also warned Russia that it could face tougher economic sanctions.

President Barack Obama has already signed orders that would allow the US to sanction key Russian industries, and European Union foreign ministers will meet Monday to decide what new penalties should be issued if Moscow continues to ignore the West's warnings.

At the same time, it was announced representatives from Ukraine, Russia, the United States and the European Union were scheduled to meet on Wednesday to discuss the crisis in Crimea.

Also on Friday, Russia has announced it would not extradite Viktor Yanukovich to Ukraine, calling the ousted leader Ukraine's "fully fledged, legitimate president." Yanukovich fled Ukraine shortly after the crisis in the country began, and found asylum in Moscow.

Following his decision to stop gas flow to Ukraine on Thursday, Putin tempered his threats Friday saying he has no intention to stop gas supply to the neighboring country at this stage, but Kiev may have to pay for gas deliveries in advance, after amounting a $2 billion debut to Moscow.

Google Maps, meanwhile, decided to mark Crimea as Russia - but only for Russian users. The company cited "an attempt to remain objective" as the reason to the move, that also added a border line between the Black Sea peninsula and Ukraine. In the English version of the site, however, the border line is broken, to note the fact the border is disputed.