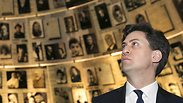 Miliband at Yad Vashem
Photo: Reuters
British opposition and Labour leader Ed Miliband described himself on Friday as a "Jewish atheist," but noted he still believes in the importance of religion and faith, British media reported on Saturday.

While Miliband, currently on a visit to Israel, is of Jewish birth and considers his Jewish origin to be a part of who he is, he says he doesn't believe in God.

"I don't believe in God, but I think faith is a really, really important thing to a lot of people. It provides nourishment for lots of people," he said. "In terms of faith for me, it's a faith about how you change the world. And that is actually true for a lot of religious people as well."

Related stories:

Miliband's views of Judaism are a part of his upbringing as his parents were not practicing Jews.

His mother, a Polish Jew, survived the Holocaust thanks to being protected by Poles, and his father, of Polish-Jewish origins, fled with his parents to England during World War II.

Miliband also spoke on the impact his parents' experience escaping Nazi persecution had on his decision to go into politics and expressed his desire to be elected "the first Jewish prime minister."

"Someone asked me if I thought it was a disadvantage, that people would be less likely to vote for me because I'm Jewish, and I said absolutely not," he said. "That's one of the great things about Britain. There are elements of anti-Semitism, (and) it is really, really important to tackle those and have no truck with them. I have said I hope that I'll be the first Jewish prime minister if we win the election, but it is neither an advantage nor a disadvantage."

Despite this, he clarified, he views Britain as a "Christian country."

"We are really lucky in having the Church of England as an established Church. It is a great institution, not just in the spiritual faith and nourishment that it gives to lots of people, but also the good work it does in communities," he said.

British Prime Minister David Cameron is the only British party leader to say he believes in God. Miliband and leader of the Liberal Democrats Nick Clegg both declared themselves to be atheists.
Jewish origins
During his visit to Israel, Miliband got a tour of Jerusalem, where met with Prime Minister Benjamin Netanyahu.
He was also taken to a hill overlooking the Gaza Strip and shown from where rockets are fired towards the Israeli south.
At a visit to Jerusalem's Yad Vashem Holocaust museum, the Labour leader was given a document about his family history, that included a shocking fact - his grandfather had not died in Auschwitz as the family always believed, but in another concentration camp.
"I feel such a long way away from that family history in a sense, because I have led such a secure upbringing from a very stable family, but both my parents were refugees. Large numbers of their relatives - including my mum's dad - lost his life in the Holocaust and so it is part of who I am, but a long way away, and then to come so close to it is incredibly painful," Miliband told the BBC.
Sixty members of Miliband's family were murdered in the Holocaust. Touching upon his family's Holocaust history, Miliband said the only positive thing that came out of it was that he received an upbringing which said "don't waste a life, don't waste a single life."
"They never said 'our family has a Holocaust history so you better work hard and do your homework', but they inculcated in me a sense of 'you have got to try and repair a broken world,'" he added.
While in Israel, he also visited his mother's cousin, Sara Ben Zvi, who he has not seen in 37 years. Ben Zvi, like Miliband's mother, is a Polish Jew who survived the Holocaust. She lives in a kibbutz just outside of Jerusalem and hosted Miliband and his wife, along with other relatives, for Shabbat dinner.