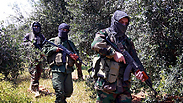 Hezbollah fighters
Photo: AP
The commandos infiltrated Syrian rebel-held territory near the Lebanese border, watching rebel fighters come and go from a two-story villa before slipping inside to plant a powerful bomb. The next morning, they detonated it as three rebel explosive experts and four assistants met inside, turning the villa to rubble in seconds.

The operation late last month in Syria's western Qalamoun region was carried out Hezbollah fighters, several Lebanese officials close to the militants have told The Associated Press.

The Shiite group has sent hundreds of its fighters into Syria to shore up President Bashar Assad's overstretched troops, helping them gain ground around the capital, Damascus, and near the border with Lebanon.

But with its own casualties mounting in a civil war that activists say has killed more than 150,000 people in three years, officials say Hezbollah has turned to a variety of new tactics – including complicated commando operations – to hunt down rebels and opposition commanders.

The aim of the new strategy, that includes hit-and-run attacks as well as reconnaissance missions, is to help Assad hold onto power, limit Hezbollah casualties, and attack groups that want to launch attacks inside Lebanon itself.

"Hezbollah is also well aware of its comparatively limited manpower capacity," said Charles Lister, an analyst with the Brookings Doha Center. "So exploiting an ability to inflict damage on the enemy without expending significant resources… is a natural strategic development."

Hezbollah has a long history of guerrilla attacks. It fought Israel during its military occupation of southern Lebanon for nearly two decades until the IDF pulled out in 2000. Then, it relied on hit-and-run assaults to combat Israel's army.
Turning point
The turning point in Hezbollah's strategy in Syria came after the group helped secure the border town of Qusair last June, said the Lebanese officials, who spoke on condition of anonymity to discuss Hezbollah military tactics. After that battle, they say rebels ambushed and killed four elite Hezbollah fighters even though Assad's troops told them the area was secure.

Now, Hezbollah sends small groups of fighters to observe areas before entering, the officials say. One official said Hezbollah also has linked Syrian territories where it is present to its bases in Lebanon via a secure, hard-wired telecommunication network it has been using back home for years. The fighters avoid using mobile phones or other equipment easy to monitor, the official said.

The attack on the villa in Qalamoun also showcases the turn to commando-style fighting. Syrian state media said Syrian troops carried out the attack. However, Lebanese daily newspaper Al-Akhbar that is sympathetic to Assad, said both Syrian troops and Hezbollah special forces carried out the attack.

Observers of the group and experts say the Qalamoun attack was consistent with similar operations carried out by Hezbollah in the past.

"Covert and targeted Hezbollah operations further into Syria's interior or into 'enemy territory' is not such a surprising development," Lister said. "After all, Hezbollah training incorporates all the capabilities necessary for such operations, and there is a precedent for similar tactical evolutions, particularly against Israel."

Lister added that the attack "opens its forces up to being able to expand their operational capacity to include covert qualitative attacks on enemy infrastructure and senior leadership."

An opposition activist in Qalamoun who uses the name Amer al-Qalamouni told the AP that the three men, part of an engineering unit, were killed while preparing a bomb and did not die in an operation carried out by Syrian troops or Hezbollah.

"Had the bomb been detonated by the army or Hezbollah we would have said that but they did not," al-Qalamouni said by telephone from Syria. "They (Hezbollah and army) want to take credit that they killed them." He did not elaborate.

A spokesman for largely secretive Hezbollah declined to comment when asked if its commandos carried out the Qalamoun attack, saying he had no information about it. The Lebanese terrorist organization's television station Al-Manar, however, hailed the "qualitative operation" and aired black-and-white photographs of the villa before and after the attack.

Al-Manar said the operation was carried 11 kilometers (7 miles) deep inside rebel territories near the area of Hawsh Arab.

The station also reported that the three bomb experts killed were behind suicide attacks that targeted Lebanon. That also offers further motivation for Hezbollah to carry out such an attack.

Syrian rebel groups and those supporting them increasingly carry out suicide attacks and other assaults in Shiite neighborhoods in Lebanon as revenge for Hezbollah's support of Assad. Dozens have been killed in recent months, the bulk of whom are usually civilians.
Hezbollah & Assad
Lebanon itself remains deeply split over Syria's increasingly sectarian civil war. Assad comes from a Shiite offshoot sect and the rebels fighting him are dominated by Sunnis. Stopping the attacks in Lebanon could ease those tensions and help Hezbollah's own image at home.

Meanwhile, Syrian troops continue to reap the benefits of Hezbollah's experience.

"Since the crisis started until now there has been major development in the performance of Syrian forces," said Qassim Qassir, a Hezbollah expert who writes for the Lebanese daily newspaper As-Safir.

One of the deadliest operations against rebels in Syria occurred in February when forces loyal to Assad killed 175 rebels, many of them al-Qaeda-linked fighters, in an ambush near Damascus.

The attack – filmed and broadcast exclusively by Al-Manar – was described as one of the deadliest attacks by government forces against fighters near the capital since the crisis began in March 2011.

Many believe Hezbollah orchestrated the assault because of Al-Manar's access and the fact the terrorist organization's fighters are active in the region.

The Lebanese officials close to Hezbollah said the group's fighters spearhead operations near the Lebanon border, where they pound areas with artillery, multiple rocket launchers and mortars before storming it. Once they get an area under control, they hand it over to Syrian troops or pro-government Syrian militiamen known as the National Defense Forces.

"They don't trust anyone," an official said. "They were ambushed several times and lost a number of elite fighters."