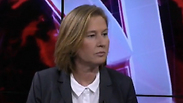 Livni.
Photo: Assi Cohen, Hagai Dekel
Chief Israeli peace negotiator Tzipi Livni slammed Economy Minister Naftali Bennett for his attempt to "prevent us from living here in peace" with the Palestinians, linking the extreme ideology of the Yitzhar residents who trashed an IDF post to that of Bayit Yehudi.

In an exclusive interview with Ynet, the justice minister did not bother trying to hide her contempt of Bennett and his party.

"Bayit Yehudi represents those who are trying to prevent the (peace) process from us. This is the same severe ideological views that gave birth to the Yitzhar rioters who are trying to prevent an accord," she said.

Related stories:

"The Yitzhar rabbis, who encourage such a behavior, voted for Bayit Yehudi, or at least part of it. This is the party they look to. When we try to pass liberal laws, they stop it," Livni added.

"I didn't want Bennett in the government, neither did the prime minister. It was this 'brothers' alliance' (with Yesh Atid's Yair Lapid) that forced Bayit Yehudi on the government along with their extreme ideology," Livni noted. "We are trying to put Israel on the world map and in doing so, we are facing a complex battle with Bennett and in friends."

Sources in the Bayit Yehudi responded harshly to Livni's criticism, saying she "has turned Israel into a country that frees murderers for nothing" and should "examine her own actions to see where she brought us, and at what price."

"Holding onto your chair is not an ideology, but Tzipi proves that sometimes it is definitely an obsession," they added.
Rewards greater than price
Despite the difficulties to the peace talks that arise of Bennett's refusal to vote in favor any deal to extend talks that includes the release of Israeli-Arab prisoners, Livni is optimistic such a deal is nigh.
"I think both sides, along with the Americans, want this to happen."
She also defended the concessions Israel is offering to make as a part of such a deal, saying the rewards "are a thousand times greater than any price we pay."
And while saying any negotiations have precedents, the release of prisoners is not a given.
"I don't treat them as any different to other terrorists and therefore the conditions (of the deal) will be such that allow any minister who desires peace to support it," Livni said.
She also responded to criticism against her that said she was not protecting Israel's interests in the talks.
"I'm not only bound to giving to the Palestinians," Livni said. "They also have to know that the negotiations are about Israel's interests and they can't do whatever they want."
The justice minister stressed that she is working closely with Prime Minister Benjamin Netanyahu and consults with him prior to making any offers to the Palestinians.
"We're facing the decision making stage. The prime minister is the one who will have to make the most essential decision - whether to cave in to extremists like Bennett" or not, she said.
Following the decision on whether or not to continue with peace talks, both sides will have to make decisions on content - the core issues in the talks, Livni said.
Attila Somfalvi contributed to this report.