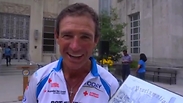 Running for Peace. Pat Farmer
Australian runner prepares to run through Middle East for peace
Pat Farmer will cover 1,400 kilometers in run for peace that will take him through Lebanon, and Israel. In interview with Ynet, Farmer explains motivations for project, says he hopes to inspire others to 'take their words of peace onto actions'.
While US Secretary of State John Kerry's attempts to salvage Mideast peace talks seem to be failing, Pat Farmer may have the solution that will bring peace to the region.
Farmer, an Australian runner who participates in ultramarathons, will cross the border from Jordan to Israel next month in a run to promote peace and tolerance across the Middle East.