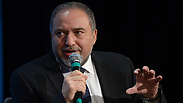 אביגדור ליברמן ב כנס של ה ג'רוזלם פוסט ב ניו יורק
Photo: Shahar Azran
Foreign Minister Avigdor Lieberman slammed the Palestinians unwillingness to reach a final peace deal, as well as their bid to join international organizations, saying "we are ready to talk and negotiate, but will not accept any unilateral steps."

Speaking to a group of foreign diplomats, the foreign minister further seemed to claim that the Palestinians' decision to join some 15 international organizations and treaties killed a prisoner release deal which was said to include US-spy Jonathan Pollard and set peace talks back on track, well beyond their end-of-April deadline.

"What happened last week is that we were very close to reach a package deal with the Palestinians… it was very complicated and after real efforts by us to move forward, the Palestinians suddenly signed request to join 15 different UN agencies."

Negotiations broke down early this month after Israel failed to carry out a promised release of Palestinian prisoners. The Palestinians responded by reviving a campaign for recognition in international bodies, triggering a series of Israeli sanctions.

Lieberman claimed that the Palestinians failure to reach the prisoner release deal was further proof of their reluctance to reach a comprehensive agreement with Israel: "I think it was something we saw in the past, like in Camp David… and also subsequently in Annapolis. In the last moment, Abbas refused to sign an agreement, like Arafat did in Camp David."

Lieberman went on to lament what he felt was unfair treatment of Israel, claiming that the Palestinians, and the world, were repeating past mistakes: "It is interesting from our point of view is that certain countries and leader went out of their way no to blame the Palestinians for sabotaging the agreement. After some time, they start to blame Israel."

Lieberman further attempted to dispel what he called misunderstandings regarding Israel: "First of all, Israeli-Palestinian dispute is the heart of the Mideast conflict. I think it is clear today that there is no linkage between our dispute with the Palestinians and the Arab Spring... or the civil war in Syria... there is no link.

"Second point, settlements. I think it is clear we signed two peace agreements with Egypt and Jordan without settlements. Same thing with the disengagement (from the Gaza Strip), we evacuated 21 flourishing settlements, and removed all of the Jewish population, withdrawing to the 1967 lines. And the response from the Palestinians is 16,000 missiles."
Jerusalem meeting
The comments came amid a Jerusalem meeting currently underway between Israeli and Palestinian negotiation teams.
Justice Minister and Chief negotiator Tzipi Livni spoke to Ynet before the meeting Sunday and said "I think both sides, along with the Americans, want this to happen."
"We're facing the decision making stage. The prime minister is the one who will have to make the most essential decision - whether to cave in to extremists" or not, she said.
The teams last met on Thursday in a session presided over by Indyk, who has since returned to Washington for consultations while Israel observes the seven-day Passover holiday starting at sunset on Monday.
But following that meeting the peace process suffered a new blow when Israel said it would freeze the transfer of duties it collects on the Palestinians' behalf, in retaliation for their diplomatic offensive against Israel at the United Nations.
The monthly $111 million in taxes collected by Israel represents about two-thirds of the income received by the Palestinian Authority.
Israel was also suspending its participation with the Palestinians in developing a gas field off the Gaza Strip and putting a cap on Palestinian deposits in its banks, the Israeli official said.
The decision sparked concern in Washington.
"We've seen these press reports, but we have not seen an official public announcement by the Government of Israel," state department spokeswoman Jen Psaki briefed reporters on Friday.
"That said, we would regard such a development as unfortunate. We believe that the regular transfer of the Palestinian Authority's tax revenues and economic cooperation between Israel and the Palestinian Authority has been beneficial and is important to the well-being of the Palestinian economy."
The talks hit an impasse two weeks ago when Israel refused to release as agreed a group of Palestinian prisoners and the Palestinians retaliated by seeking accession to several international treaties.
Elior Levy, AFP and Reuters contributed to this report.