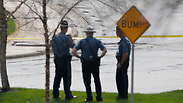 Three dead in Kansas Jewish centers shootings
Photo: AP
Three people were killed in two shootings in two Jewish centers in Kansas. A suspect has been arrested and was heard yelling "heil Hitler" as he was taken into custody.
Overland Park Police confirmed that multiple shots were fired at the JCC center and the Village Shalom retirement home. Two men were killed at the JCC - which was full of teens auditioning for KC Superstar - and another 70-year-old women was killed at the assisting living center.
According to the police, the shooter arrived first at the JCC where he shot two men in the parking lot, and then moved on to the elderly home. According to CNN, the shooter first made sure his victims where Jewish, but additional details were not yet available.
Overland Park Fire Department spokesman Jason Rhodes said Sunday afternoon that one person of interest was in custody and a KCTV reporter claimed "a man in handcuffs at the scene was yelling about Hitler." Additional reports claimed the man was heard yelling "heil Hitler."
The Jewish Community Center of Greater Kansas City wrote on its Facebook that "There has been a shooting incident at the Jewish Community Center of Greater Kansas City near the White Theatre entrance. The building remains on lockdown. The police are currently on the scene. We will post more information as it becomes available to us. Thank you everyone for your thoughts and prayers."
According to a KMBC report, which quoted the police, the entire Jewish Community Center campus has been placed on lockdown while police search the area while gunman was are reportedly still at large.
A spokeswoman with the Overland Park Regional Hospital confirmed for NBC that they had one victim "under 16 years old in critical condition."
An other report claimed that the JCC was full of teens who were auditioning for Kansas City Superstar, the local version of American Idol, with their parents frantically trying to get to the children after the shooting began.
Police were also examining a truck in the center's parking lot that had shattered windows.
KSHB claimed that a news photographer on the scene spoke with a man who claimed another man pointed a gun at him and shot the windows out of his car. That person was not injured.
Mike Metcalf, an area resident, reportedly told Fox 4 that :"My son and I were walking into the Jewish Community Center this afternoon for an umpire clinic, around the westside and all of the sudden we heard a gunshot, a pretty loud gunshot... I turned to look to my right and I can see a man standing outside a car with a shotgun, what to me looked like a shotgun, and there was somebody laying on the ground."
This story is developing and will be updated.