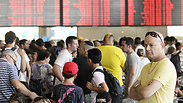 Ben-Gurion Airport
Photo: Ido Erez
Tens of thousands of Jews living abroad arrived in Israel this week to share the Passover Seder with family members in the Holy Land.

"It's good to come here for Passover; the weather here is excellent and in Denmark it's cold," said Emil Denino who arrived from Copenhagen with his daughter for a Seder in Haifa.

"It's not my first time," he said, "but it's my daughter's first time in Israel as an adult. Last time we came she was just three-years-old. It's very exciting for us to be here for Passover."

Related stories:

Denino and his daughter already managed to visit Israeli cultural landmarks like Yad Vashem and the Western Wall before the Passover Seder on Monday.

"I was born in Morocco 40 years ago. I came to Israel and live on a kibbutz for three years. It's great to be back, it's really something wonderful," said Denino.

His daughter Danit said, "I haven't been here for 16 years, and it's very special to be in israel. We have family across the country, so we're planning on visiting them and having a good time."

Natalie Asolin arrived from Belgium to enjoy the holiday with her family in Jerusalem. "For Passover Seder we'll be at a hotel with all the family. I came for the Passover holiday and to visit my son who's studying here and my parents. I try to do this every Passover. The atmosphere here is excellent."

Lisa Hart came for Passover with her family from New York. "My family comes to Israel every year for Passover. It's a bit like a pilgrimage for us. We don't live here, so we want to be here for the Passover holiday like in the days of the Temple."

"This union with Israel is very emotional and you can already feel the holiday here much more than in the US. We have an apartment in Jerusalem and that's our first home. Our second home is in America," said Hart.

David Hoch Basel from Switzerland will be a guest in Israel for two weeks. "There's nothing like the holy city of Jerusalem and celebrating Passover Seder with all the Jews," said Basel. "We've already been to the Western and we visted the family - there's nothing like home."

"We'll have Passover Seder in the Har Nof neighborhood in the city and we'll be guests at my parents' place and the parents of my wife. For me, this is really a fantastic vacation."

The Tourism Ministry estimates about 125,000 visitors were expected to arrive to Israel for the Passover and Easter periods.

"We are receiving reports of very high occupancy levels in hotels throughout Israel - between 80-90%. There are places in the north with 100% occupancy and very high figures in Eilat," said Tourism Ministry Director General Amir Halevi.

"Despite the exodus overseas by some Israelis, we see that many Israeli families give a vote of confidence in the Israeli tourism product," he noted.

As part of its preparations for the Jewish and Christian holidays, the ministry will keep tourist offices open in Jerusalem, Nazareth, Eilat and Ben-Gurion Airport, offering information to tourists and Israeli holidaymakers on events, festivals, tours, attractions, national parks etc.

Ynetnews contributed to this report.