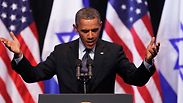 Obama speaking in Jerusalem, March 2013.
Photo: Reuters
US President Barack Obama and his secretary of state, John Kerry, both sent Passover greetings to the Jewish people on Monday, ahead of the start of the eight-day festival.

In his remarks, the president mentioned the shooting by a white supremacist at two Jewish centers in Kansas on Sunday, which left three people dead.

"(O)ur prayers will be with the people of Overland Park, Kansas and the family and friends of the three innocent people who were killed when a gunman, just one day before Passover, opened fire at a Jewish community center and retirement home on Sunday," Obama said. "As Americans, we will continue to stand united against this kind of terrible violence, which has no place in our society.

Related stories:

The president also urged people to fight the hatred that led to the attack.

"We will continue to come together across faiths to combat the ignorance and intolerance, including anti-Semitism, that can lead to hatred and violence," he said. "And we will never lose faith that compassion and justice will ultimately triumph over hate and fear."

Meanwhile, Kerry, who will be attending a second night Seder at the home of Israeli Ambassador to the US Ron Dermer on Tuesday, drew a parallel between the Jewish exodus from Egypt and the current, troubled peace talks between Israel and the Palestinians.

"I hope we can all draw inspiration from the spirit of the ancient Hebrews who in the Exodus stood at the precipice of the Red Sea, trembling with terror but nevertheless filled with the hope that they too may enjoy freedom and fulfill their promise as a people," Kerry said.

The secretary of state also touched on the attack Sunday, saying that the story of Passover shows that hope for reconciliation and the defeat of hatred.

"In America, the Passover story has always had special meaning. We come from different places and diverse backgrounds, but we are bound together by a journey from bondage to liberty enshrined in our founding documents and continued in each generation," he said. "As we were so painfully reminded on Sunday, our world is still in need of repair, but the story of the Exodus teaches us that with patience, determination, and abundant faith, a brighter future is possible."