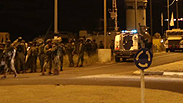 IDF troops in area of shooting attack
Photo: Gil Yochanan
Palestinian militant organizations Hamas and Islamic Jihad on Monday night both praised a shooting attack on Israeli cars near Hebron earlier in the day, which left an Israeli man dead and two others wounded. Neither organization, however, claimed responsibility for the shooting.

A spokesman for Islamic Jihad called the attack "a natural reaction to Israeli crimes," while Hamas said the shooting was "the response to the crimes of the occupation", which include attacks on the Al-Aqsa Mosque and Palestinian prisoners jailed in Israel.

Related stories:

"We in Hamas welcome the shooting action in the Hebron area, during which shots were fired at several settlers, causing the death of one and wounding of others," said Hamas spokesman Husam Badran. "We see this action as a natural response to the crimes of the occupation against the rights of our people and the repeated assaults on the al-Aqsa Mosque and our prisoners jailed in Israel."

Hamas also called for West Bank attacks against Israelis to be intensified.

The site of the attack runs past a number of Palestinian villages, and the military believes the gunmen who carried out the shooting received help from these villages to flee the scene.

The IDF thinks that the shooting was carried out by a cell as an "isolated attack", as part of the local modus operandi of one of the terrorist organizations, which explains the lack of prior intelligence of an imminent attack.

The larger area in which the shooting occurred had become known over the last decade as a hotspot for attacks, due to its proximity to Palestinian villages. However, the area has been relatively quiet in the past year. Following the shooting, IDF troops surrounded the village of Idhna, close the site of the attack, and began searches inside the village.

Idhna and the surrounding communities are well-known to the army, primarily as a hive of criminal activity, in particular auto theft. This led to an increased Border Police prsence in the area, which in turn caused unrest among the local Palestinian population.

Ynet military analyst Ron Ben-Yishai believes that the timing of the attack, on the first night of Passover, is no coincidence, Nonetheless, the IDF and Shin Bet had no prior warning, and most of the evidence points to a solitary attack.