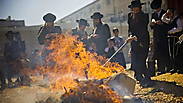 Everyone knows leavened goods like bread and items made from yeast such as beer are banned during Passover, but few know about the seemingly bizarre ceremony which allows Israel to temporarily unburden itself from tons and tons of leavened goods.

In the weeks leading up to Passover, Jews clean their homes, scrubbing every nook and cranny to get rid of even the tiniest forbidden crumb that might lurk there. For observant Jews, this process includes meticulously cleaning everything food related - from utensils to one's teeth.

The bread collected is then burnt in a religious ceremony called bi'ur chametz (burning of the leavened goods).

But this cleaning process poses a problem when moved to larger scales. How does one burn the grain related products of an entire village, town or even country?



In line with the informal Jewish tradition of religious ingenuity and compromise, a system was devised to tackle Israel's chamez problem.

According to Shulhan Aruch – the codification of Jewish ceremonial law – if chametz is in the possession of a non-Jew during the Passover holiday, it is permitted to keep the unholy crumbs, on the condition they are concealed from the eye and marked.

The State's law regarding Passover uses similar terminology; falling short of actually outlawing chametz, only its public display is forbidden.



The rabbinical sages established a procedure in which chametz can be sold en mass to a non-Jew for safekeeping throughout the Passover and thus entire communities and even businesses and factories can rid themselves of the chametz without building a huge bonfire, losing vast amounts of time, money and energy.

In our modern day, organizations like Chabad offer online services in which people can virtually sell their chametz by giving the rabbi power of attorney over their unleavened goods.

This service is also offered at a national level: After ceremonially receiving ownership over all of Israel's chametz, the chief rabbis then go on to (temporarily) sell the chametz to a gentile, usually an Arab.

In 2011 for example, the state sold its entire chametz stock to Hussien Jabar, a resident of Abu Gosh, for NIS 20,000. At the end of the holiday, Jabar politely returned the bread to its original owners, and got his money back.

The Associated Press contributed to this report.