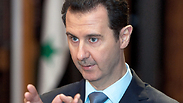 The government of Syrian President Bashar Assad has accused the United States, Turkey, Israel, Saudi Arabia, and the rebels fighting to overthrow it, of being responsible for chemical weapons attacks in the country, Syria's state news agency SANA reported on Tuesday.

In letters to the UN Security Council as well as UN Secretary-General Ban Ki-moon, the Assad regime cited "reports, studies and documented researches" that allegedly implicate the US and Turkish administrations, as well as several other countries, "whether directly or indirectly in these appalling carnage in Syria, including Khad al-Assal on March 15, 2013."

These foreign governments, Syria accused, were also responsible for the August 21, 2013 attack that resulted in the death of hundreds of people.

Related stories:

Citing articles and researches into the attacks, including a report by American investigative journalist Seymour Hersh from the London Review of Books magazine, the Assad regime said the Turkish government was responsible for the Eastern Ghouta massacre, as well as several other massacres.

It also accused the US administration of being "privy to the crime and its perpetrators" and "manipulating evidence proving that it was Jabhat al-Nusra who committed it to justify a US aggression against Syria."

The Assad regime warned that "attempts to cover up such atrocities, leveling unfair accusations against the Syrian government and fabricating excuses will only serve to encourage armed terrorist groups to use these internationally-prohibited weapons time and again and commit more crimes against the Syrian people."

In addition to these letters, SANA reported the Syrian government has sent a document containing "incontestable proof" that rebel fighters were "in possession of the toxic chlorine which they intend to use in Aleppo governorate and other areas in Syria."

The letters urged the UN Security Council to "shoulder responsibilities according to its counterterrorism resolutions and demand that countries supporting terrorists with weapons and funds refrain from it," SANA reported.